The Government is not doing 'nearly enough' to improve the state of the roads in the UK, according to road users.
A survey of 7,000 people by IAM RoadSmart found that the majority think that our roads have become much worse in recent years.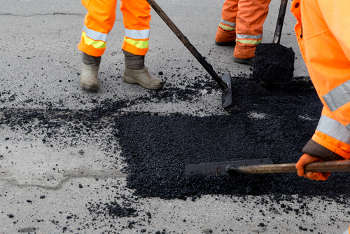 The road safety charity also discovered that the respondents felt there were many more potholes than ever before and that they had to swerve to avoid potholes on every journey.
Nearly 50% said they had experienced damage to their car, commercial vehicle, motorbike or bicycle, or personal injury as a result of hitting a pothole.
Around 90% had spotted a deterioration of some level in the roads they use with just over 50% rating the state of their roads as 'much worse' in the past three years and 38% rating them 'worse.'
Just over 80% said they had noticed 'many more' potholes in the past three years, adding in the 13% who had seen 'a few more,' that gives a total of 94% who report more potholes.
Over 56% said they had to take avoiding action on every journey to dodge potholes, while 27% say they have to steer around a pothole every day.
'IAM RoadSmart is deeply concerned at the safety implications of drivers having to swerve to avoid potholes as well as the high level of damage and injuries revealed by our survey,' said Mike Quinton, chief executive officer of IAM RoadSmart.
'We are looking to the authorities to work together to produce a long term and sustainable plan to reduce the backlog of road maintenance before yet another damaging winter sets things back even further.
'The figures from our survey are compelling and it is increasingly clear that those who use the roads on a daily basis are pretty much united on this one — enough time has now passed for a long term plan to be in place and for work to have started.
'As our survey has shown, this is now the motoring public's number one priority.'
Cllr Martin Tett, the Local Government Association's (LGA) transport spokesman, said last month that councils were 'fixing a pothole every 21 seconds' but required more central Government funding.
'Only long-term, consistent and fairer Government investment in local road maintenance can allow councils to embark on the widespread improvement of our roads that is desperately needed,' he said.
Cllr Tett called on Whitehall to reinvest two pence per litre of existing fuel duty into local road maintenance.
This, he said, would 'generate £1bn a year for councils to spend on improving roads and filling potholes and begin addressing the £9bn roads repair backlog.'
However, while a third of IAM RoadSmart members surveyed were willing to consider new funding ideas to help improve our roads, half were against a 2 pence increase in fuel duty and most of those were strongly opposed.
This article first appeared on localgov.co.uk.