The Government-funded ADEPT Smart Places Live-Lab programme has announced the 10 successful SMEs that will enter the SIMULATE incubator programme to trial air quality and mobility solutions in Staffordshire.
SIMULATE (Smart, Infrastructure & Mobility Urban Laboratory and Test Environment) combines research and feasibility with collaborative incubation and trialling.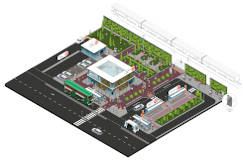 The programme brings together Staffordshire County Council, Amey, Keele University and the Connected Places Catapult and asked SMEs to pitch for funding to bring their innovative solutions to life on the local road network.
The 10 winners were chosen from over 130 applicants. The successful bids are:
ZWINGS is a micro-mobility operator that will deploy a mix of 50 e-bikes and e-scooters to facilitate car-free movement
Liftango will deliver detailed research into local mobility requirements and formulate a blueprint for demand-responsive transport across the area
Ginger town is a UK-based micro-mobility fleet operator with a focus on the use of e-scooter trials and e-bikes
Urban Electric (UE) and MEV are a joint bid comprising of 'pop up' electric charging points that integrate back into the pavement when not being used (UE), while MEV will be trialling electric car share alongside the charging points in miniaturised hubs
FortyTwo in partnership with Oxfordshire County Council will be building a self-regulating, Moss Wall installation to clean the air and act as a carbon basin to combat climate change
Now Wireless will be using artificial intelligence to predict pollution an hour ahead and use that information to change the parameters that can affect it
Fotech will be using fibre cables to detect vibrations from vehicles and to analyse traffic volumes and dynamically change signal junctions to relieve congestion
Biotecture will install an active green wall to act as a barrier against pollution and actively remove air pollutants and deliver a clean air zone
IsCleanAir will deploy their water-based, filterless air filtration technology to actively cleanse pollution in areas of poor air quality.
Each SME will be delivering a key element of Staffordshire's radical new vision of multi-modal mobility hubs.
Live Labs programme director Giles Perkins said: 'This exciting group of smart mobility and air quality interventions illustrates the breadth of innovation that can now be harnessed in our local communities. We look forward to seeing these being deployed and learnings shared right across the local roads sector for the benefit of all.'
Staffordshire County Council's cabinet member for highways and transport, Helen Fisher, said: 'We're pleased to be working with our partners in bringing in industry expertise to find and apply innovative sustainable transport and clean air solutions which will bring real long-term benefits to communities and businesses in Staffordshire and across the UK.
'As a council we are committed to work towards greener transport options and combatting climate change and so it's great that we have this project running in Staffordshire.'
David Ogden, business director at Amey, said: 'Working with innovative SMEs from different business backgrounds enables our sector to learn from the best and implement technologies we might not have usually considered, and exploring the environmental and mobility benefits to the communities in Staffordshire, through creating a network of multi-modal mobility hubs - developing a new platform for the way innovation is brought to life.'
The ADEPT SMART Places Programme is a five-year project examining and developing innovation to enable the adoption of innovative and digital technology across the local highway network.
In January 2019, ADEPT secured £22.9m funding from the Department for Transport for Phase 3 of the programme, which involves the development of eight individual Live Labs projects led by local authorities with university and private sector partners.
The Live Labs are piloting innovation across SMART communications, transport, highways maintenance, energy, materials and mobility. The ADEPT SMART Places programme has been developed with partners: SNC-Lavalin's Atkins business, EY, Kier, 02, Ringway and WSP.