The City of Wolverhampton Council has announced a second phase of BP Chargemasters to be installed by the summer.
The council said the move will to encourage more electric vehicles in the city and have significant environmental benefits.
Electric vehicles will get 90 minutes free parking when charging.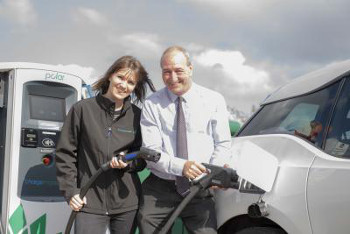 Drivers can pay for their charge via the Polar network and via contactless payments.
Cllr Steve Evans, cabinet member for city environment, said: 'I'm pleased to see further work underway in preparation for the increasing demand in electric vehicles.
'The move towards electric vehicles will improve air quality, reduce noise on our roads and benefit public health.
'The new charging points will also inevitably attract more drivers to visit, live and work in Wolverhampton and will therefore benefit the local economy.'
Cllr Barbara McGarrity, champion for climate change, said: 'This is a move in the right direction to support our commitment to tackle climate change.'
The council was awarded £478,000 government funding in March 2017 towards a long-term plan to grow the number of electric taxis in the city.
The Office for Low Emission Vehicles subsequently confirmed that the charging network can also be made available for public use.
Last year, phase one of the project identified six key locations across the city for the first BP 'Chargemaster' charging points to be installed. The council said it is working closely with BP Chargemaster with a target of installing this second phase by the summer.
Phase two has identified five key locations for the new charging points and focuses on locations outside of the city centre to ensure charging points are accessible across Wolverhampton.
The new locations are:
Pinfold Street car park
Temple Street car park
Tettenhall High Street car park
Woodhouse Fold car park
WV Active Bert Williams car park
A third phase of chargers is due to be installed by the end of the year.