Highways England has begun work to install more than six miles of new steel barrier on a busy section of the M62 in West Yorkshire.
The £3.2m scheme will see 10,000 metres of steel safety barrier installed between junction 33 for Ferrybridge and junction 34 for Whitely Bridge. Work started this week.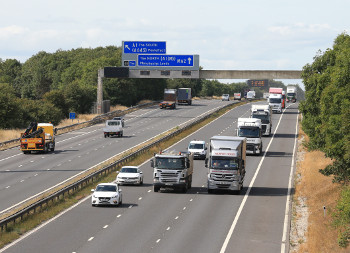 Highways England project manager Andy Barlow said: 'The M62 is a vital route across the region and we would like to thank drivers in advance for their patience while we carry out this important safety work.'
The works are a safety improvement scheme to install new sections of steel barrier in the eastbound and westbound verges between the two junctions, as well as replacing some existing life-expired barrier.
Highways England said that the works are to fill gaps as the only barriers alongside this stretch of the motorway at present is adjacent to features such as signs and gantries.
Additional drainage and maintenance work will also take place as part of this work, which Highways England said would reduce disruption for drivers in the future.
From this week drivers will see closures on the hard shoulder with overnight lane closures in place to install the temporary speed cameras.
In early October the speed limit will be reduced to 50mph and narrow lanes will be installed to protect the workforce.
These will be in place eastbound until Christmas, when work will switch to the westbound carriageway until May 2019.
There will be night-time closures between 8pm and 6am for a week from Monday 8 October to install the narrow lanes.
Highways England said clearly signed diversions will be in place and there will be occasional road closures during the work, which will be signed in advance.
This scheme is part of £80m of maintenance improvements taking place this year on the strategic road network in Yorkshire, including upgrading 26 miles of safety barriers.