Warwickshire County Council is set to spend nearly £21.5m to transform Nuneaton's transport infrastructure, with active travel 'at the heart' of its plans.
On Monday (12 October) the council approved a decision by its cabinet to fund the work from its capital investment fund.
The cash will be used to make changes to major junctions on the town ring road, 'alleviating congestion and improving facilities for all users, including cyclists and pedestrians', as part of the wider Transforming Nuneaton project.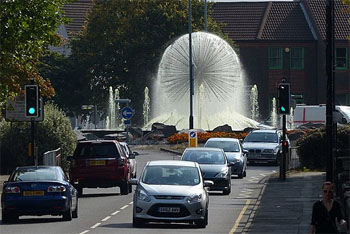 The council said the works will make the town more attractive for residents and visitors, as well as potential developers and businesses.
Jeff Clarke, portfolio holder for transport and planning, said: 'Transforming Nuneaton is about creating a vibrant town centre for residents and visitors. But it's also about creating a town that is an attractive investment opportunity for prospective businesses which will greatly stimulate the local economy and create employment.
'The transport infrastructure is absolutely critical to that. This is a real statement of intent that we are committed to improving the town centre and sends that message out to any potential investors.
'But while we are boosting the economy, the schemes also demonstrate our commitment to tackling climate change, reducing congestion and improving air quality as active and sustainable travel are at the heart of all of these schemes.'
Among the projects approved are:
A444/Corporation Street/Powell Way - The existing 'Dandelion' roundabout will be removed and replaced with a four arm signalised crossroads, with the aim of cutting congestion. The council said that if the Dandelion fountain (pictured) needs to be removed, it will be relocated.
A444/Queens Road - The road will be widened to allow for a new bus lane that will provide improved public transport accessibility at the junction.
A444/Wheat Street - Provision of a fourth arm to an existing three arm signalised junction to open up development along Wheat Street west. This will also provide improvements to cyclist/pedestrian facilities.
A444/Leicester Road/Back Street/Bond Street/Regent Street - This scheme will remove the existing one-way gyratory system and replace it with a four-arm roundabout. Approximately 420 metres of one-way system will be removed. Proposed toucan crossings on Leicester Road arm, Vicarage Street and A444 west approach, along with the existing alignment of Regent Street aim to improve cyclist and pedestrian facilities.
Transforming Nuneaton is a partnership between Warwickshire CC, Nuneaton and Bedworth BC and the Coventry and Warwickshire Local Enterprise Partnership.
Image credit: Mat Fascione / Corporation Street in Nuneaton / CC BY-SA 2.0