Amey UK Plc has posted a loss of £428m for 2018 after extricating itself from the controversial Birmingham Highways PFI.
The firm, which owner Ferrovial has put up for sale, said revenue increased by 5.7% from to £2.32bn to £2.2bn in 2017. It made a pre-tax profit of £208,000 before exceptional items.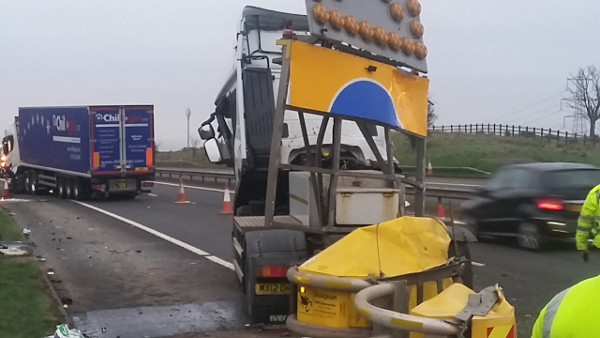 An Amey impact protection vehicle after a crash
Chief executive Andy Milner wrote in the group's annual report that these had included 'the impact of difficult market conditions being experienced, as well as the cost of exiting from the onerous Birmingham City Council PFI contract'.
He added that the firm had written down £314m of goodwill, which reflected its view of the waste collection and utilities market.
Regarding the Birmingham contract, which cost the firm £95m last year, Mr Milner wrote: 'Release from this difficult contract is hugely significant for the group and enables the business to capitalise on the major changes that have been made over the past three years and focus on success.
'Free from this extremely challenging issue the business is in great shape to deliver on its strategic plan, building on strong business principles, innovating service and outstanding people.'
Overall, Amey said 2018 had been 'an exciting year' for its highways business following a year of stabilisation. Mr Milner wrote: 'By listening to and learning from our clients and customers, we have reshaped the business with a focus on predictability, practicality and consistent delivery.'
The highways division's revenues totalled £363m in 2018, down from £512m in 2017.