Lead constructor AmeySRM has started main construction work on National Highways' £23m project to provide a new road bridge over the M56 in Cheshire.
The government-owned company is replacing the A533 Expressway bridge between junctions 11 and 12 near Runcorn with a new crossing a few metres further up the motorway.
Preparations started in November and workers have now moved onto the site to start building a site compound and install safety barriers along the motorway.
As the current bridge, which was built in 1971, provides a vital connection for people living or working on both sides of the motorway, it cannot be demolished until the new one has opened.
Kennedy Muzira, National Highways' senior programme leader for the North West, said: 'This is a complicated and exciting engineering challenge for us but minimising inconvenience to the thousands of people who rely on the bridge and the M56 for their journeys every day will be at the forefront of all our minds over the next year or so.'
The bridge is being replaced with a new 67m two-span concrete bridge, consisting of a single two-lane carriageway and a combined footpath and cycleway.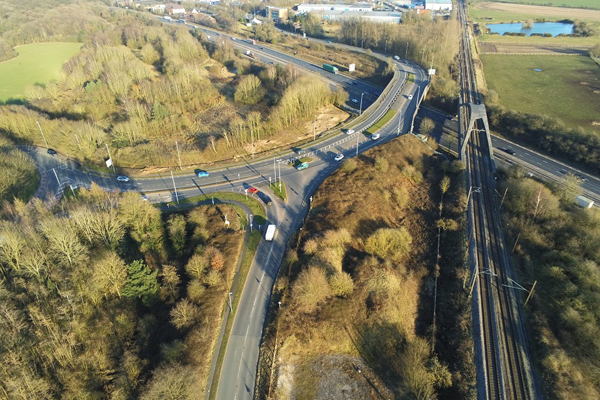 Amey said that carefully demolishing the old bridge once it is sandwiched between the new one and the existing railway bridge serving the West Coast main line, is just one of the challenges on the project.
Major internet and water services for hundreds of thousands of residents and businesses in north of the M56 are carried by the existing bridge and are having to be diverted.
The topography is also a challenge, with the bridge running at an angle across the M56 and the land falling on the southern side of the motorway, requiring a complicated design for the bridge decks and concrete parapets in the motorway verges.
The motorway will be closed for two weekends - in the spring and autumn – for installation of the new bridge and demolition of the old one.