Mark Dutton, managing director of Safecote Ltd, remembers Andrew Lupton, his friend and fellow founding member of the NSSRG, (National Salt Spreading Research Group) now known as the NWSRG.
Andrew Lupton was a true Yorkshireman; honest, no-nonsense and sometimes a little outspoken. That is why I had the utmost respect for him, that and the knowledge and experience he had gained over his many years in the winter service industry.
I first met Andrew in 1993 whilst I was working for Salt Union. I had visited the factory in Ripon and met with himself and his father Bill, along with two colleagues from the Winsford salt mine. We were both of a similar age and I've had complete respect for Andrew since that day. I could relate totally to his ambition, drive, determination and zero bullshit!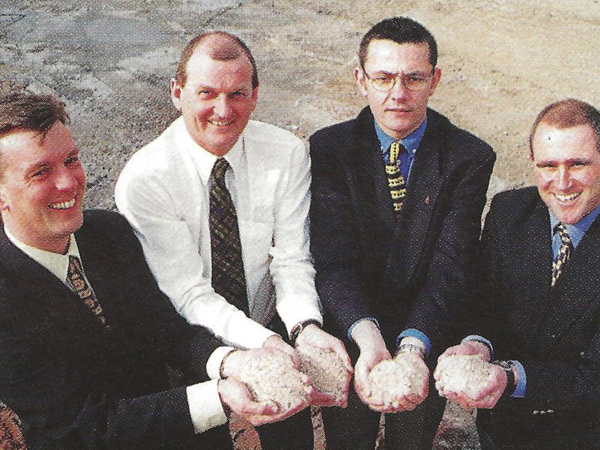 Pic: Andrew Lupton (far left), Steve Hartland, Mark Dutton (second from the right) and David Wilson,
As our careers developed from there we would meet regularly at conferences and forums in the UK and overseas. I always found Andrew very approachable, polite, courteous and somebody who would always take time to get to know the 'real you' - your life outside of work.
Andrew and I shared a love not only for snow and ice but also for football. He was a big fan of Leeds United, not surprisingly, and myself Manchester City. Two football clubs who've had their fare share of ups and downs during the time we've followed them. Andrew also told me about how Man City were his 'second club' as he would regularly stand on the Kippax at Maine Road watching City during his time studying at Manchester University.
Andrew and I were two founder members of the NSSRG, (National Salt Spreading Research Group), which is now known as the NWSRG. His passion for our industry was clearly demonstrated during those early years, sharing the vision that we hoped the NSSRG would become the centre of excellence for winter service in the UK.
As our relationship grew over the decades we would have several discussions each year that I can only describe as 'state of the nation'.
Andrew would call me on his way home from the office and we would talk all things football, family, winter service etc. The last time we had such a call was during last autumn, and I remember Andrew talking about his frustration with the pandemic forcing the cancellation of a family holiday he had planned; always the family man was Andrew.
My lasting memory of this great guy, and this is quite bizarre, was from 4 July 2015. My wife and I had kindly been invited by friends to go and see the great music institution that is AC/DC at Wembley Stadium.
At the end of the show our tickets got us access to an after-show party where a DJ was playing classic rock tracks from the past decades. Across the room I spotted Andrew, he was there with his two children. I went over and invited them to join the four of us. We spent the next 90 minutes or so drinking beer, playing air guitars and losing our voices! But what struck me was how attentive Andrew was to his children, who were in their late teens I guess, ensuring they engaged in the conversation as well as having a great time rockin!
Like most who knew him well, I will miss Andrew greatly. It is still difficult to imagine a Cold Comfort without his presence; this years event will be strange! He was a real industry expert, but more importantly he was a friend. I would like to send my deepest condolences to his family, friends and work colleagues at Econ Engineering. We have lost a great man. RIP Andrew - it really was a pleasure x