Dominic Browne reports on delays and safety critical concerns within the sector regarding traffic management guidance documents released by the Department for Transport.
After coming out in 2016, years late, and having many mistakes within it, which have since been corrected (see Highways December 2017), the Traffic Signs Regulations and General Directions (TSRGD) has caused the sector a few headaches.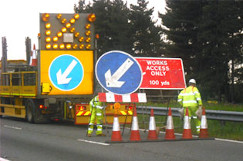 Now practitioners have raised concerns about its accompanying guidance, namely the Traffic Signs Manual Chapter 8, Part 3.
As Highways has reported previously, despite the industry seeing this guidance as a supportive document to the statutory TSRGD, two years after its release the updated manual is still yet to be published. A spokeswoman for the Department for Transport (DfT) has told Highways: 'We will publish the draft Chapters of the Traffic Signs Manual in due course. In the meantime, some advice on the changes made in the Traffic Signs Regulations and General Directions 2016 is available in the DfT Circular published alongside them.'
On top of this, Highways understands that the only section to be published so far, Chapter 8, Part 3, caused so much consternation in the sector it effectively had to be withdrawn after practitioners refused to recognise its recommendations. The section was apparently released without consultation with the industry. It contains operational guidance that has raised serious concerns. The chapter is available online but is not available from Her Majesty's Stationary Office. The document is currently undergoing a rewrite after traffic management contractors raised a variety of issues including safety concerns.
The Traffic Signs and Markings Technical Working Party, which includes the DfT, Highways England, the Traffic Management Contractors Association (TMCA) and other industry bodies, meets twice a year to discuss these topics and there appears to be some debate over how best to proceed. Highways understands that time pressures have complicated the situation.
According to Grahame Beswick, chairman of the TMCA, the original Highways England/DfT document contained recommendations that would have necessitated workers crossing a live carriageway on foot, a practice that was removed from the industry years ago.
Verge-only signage, rather than verge and central reservation, is recognised industry best practice and dates back to at least December 2011 with the publication of IAN150/11, as well being pushed by a number of contractors and traffic management companies, including Mr Beswick's company, H W Martin, and Chevron.
Mr Beswick said Highways England and the DfT had since worked with TRL to carry out a consultation on the document to address industry concerns. He also highlighted that while in England, Scotland and Wales the document is only advisory, in Northern Ireland it is subsumed within the TSRGD and is statutory, effectively removing the opportunity to adopt some best practice techniques.
He said: 'TMCA has always said we will assist Government and Highways England. We have not seen any proposed revisions to the documents or a new draft, though we expect it to be out soon. We hope that we have been listened to us because this is a safety critical issue.
'The original chapter appeared to contain sections out of context, ambiguities and errors. It did not tell us to cross the live carriageway but to carry out the recommendations workers would have had to.'
The ongoing heated debate over the guidance between Highways England, which is responsible for writing the document, the DfT, which has to approve it, and contractors is however set to be resolved by the end of the year.
Mr Beswick told Highways that trials have been done on verge-only signage using cameras attached to signs. The research clearly showed that driver behaviour does not change.
A spokesperson for Highways England said: 'We have been working with industry to review the requirements for signage, cones and other traffic management associated with roadworks.
'We are exploring how we could introduce a greater level of flexibility in our guidance so disruption to drivers is kept to minimum without compromising the safety either of our workforce or road users who rely on our roads every day.
'Having sought feedback from suppliers and the industry on our first draft of the proposed guidance, we are now reviewing the feedback with a view to finalising any changes by the end of the year.'