A new carbon calculation tool for the construction and infrastructure industry has been created by a Tier One contractor and university partners 'offering a consistent, practical solution for the measurement of embodied carbon'.
Balfour Beatty worked in collaboration with Innovate UK, Leeds Beckett University (pictured), Hertfordshire University and White Frog Publishing on the AutoBIM Carbon Calculator system, which is currently in its beta testing phase.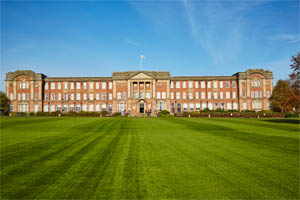 During trials on live projects, the tool has evidenced a potential saving of up to 14% embodied carbon through more informed design choices.
It is currently being trialled across four of Balfour Beatty's projects including The Institute of Regeneration and Repair at the University of Edinburgh.
Following a phased roll-out across Balfour Beatty's projects over the next six months, the AutoBIM Carbon Calculator will be available to the wider industry within the next twelve months with plans to expand the remit of the Calculator to measure the energy performance of products and materials post completion.
The system works by automatically linking BIM data to embodied carbon data from the Inventory of Carbon and Energy (ICE) database - an online source providing energy and embodied carbon information for construction materials.
'The platform also allows users to input information from environmental product declarations sheets; verified and registered documents that provide transparent and comparable data about the environmental impact throughout the lifecycle of a product or material,' Balfour Beatty said.
Rachel Sudlow, Balfour Beatty strategic improvement project manager, said: 'The construction and infrastructure industry has previously struggled to offer a consistent approach when it comes to the measurement of embodied carbon.
'That is why we have collaborated with leading industry experts to create the AutoBIM Carbon Calculator which will make a real and positive difference to how our industry operates. The introduction of such a tool is long overdue and with the impact of our work on the environment front of mind, it is a truly welcomed development.'
The Carbon Calculator marks another step forward in Balfour Beatty's journey to going beyond net-zero carbon emissions by 2040, following its new sustainability strategy 'Building New Futures', published last year.