Bath and North East Somerset Council is set to extend 20mph limits to some of the main routes in and out of Bath for the first time.
The council said proposals for permanent 20mph speed limits outside the city centre are being put forward in response to the Government's Gear Change plan to encourage walking and cycling.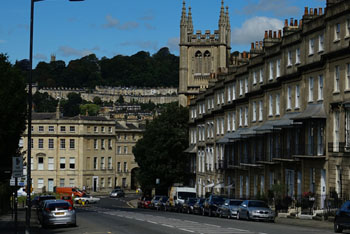 It is proposing a 20mph limit along the A4 London Road from Alice Park to the Paragon, as well as Bathwick Hill (pictured, at the junction with the A36) and Prior Park Road up to Claverton Down, the site of the university and Ralph Allen secondary school.
Officials pointed out that while 20mph limits already cover much of the city, 'this will be the first time the council has introduced such limits on busier roads that predominantly carry through traffic'.
Joanna Wright, joint cabinet member for transport services, said: 'The roads where we want to reduce vehicle speeds are ones that are well-used by pedestrians and cyclists.
'Creating more space for safer cycling is one of our three core strategies to create liveable neighbourhoods, but our ambitions should not only focus on the centre of Bath.
'We want to reduce the dominance of vehicles in built-up areas to encourage more walking and cycling as well as improve air quality and health across the district.'
Residents can comment on the proposed traffic regulation order until November 21.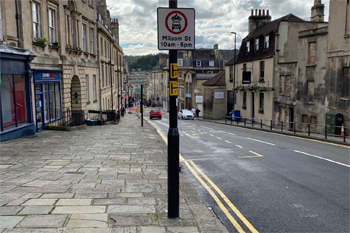 The move follows the introduction in July of a temporary bus gate at Milsom Street, one of the main routes through the city centre and the only section of a line of streets that has not been fully pedestrianised.
The council has now put up advance warning signs on roads leading to the restriction ahead of ANPR cameras being switched on later this month.
Picture (bottom right) shows one of the new signs on Lansdown Road.