As England goes through a second national lockdown, Steve Helliwell, managing director of Balfour Beatty Living Places, discusses how the spring lockdown transformed the way people travel - from a reliance on cars to more options for active travel.
When the UK Government's transport secretary, Grant Shapps, announced in May its £2bn plan to create a new era for cycling and walking - known as active travel - it provided a sense of optimism for Balfour Beatty Living Places during these unusual times.
In the words of the transport secretary, this once-in-a-generation investment allows us to 'build a better country with greener travel habits, cleaner air and healthier communities' and we couldn't agree more.
The Government's commitment to carbon-friendly travel represents a significant step-change; to improve the streetscape for active travellers across the country while contributing to improving air quality, for all.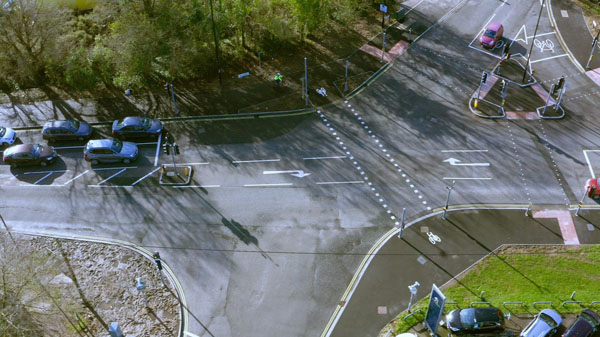 It's exciting and something that we want to be part of. That's why we've taken an active approach to work with our customers and ensure that investment is spent wisely and appropriately.
This investment has not just benefitted the country in the long-term, however. Counties across the UK have embraced pop-up cycle lanes, widened pavements and created cycle and bus-only corridors through the £250m emergency travel fund.
Up and down the UK, our workforce has worked tirelessly to deliver emergency active works on behalf of many local authorities; creating more space for social distancing and endorsing a healthier and more efficient way to travel.
With sustainability being one of the key driving forces behind our business, we proactively collaborate with all our customers to understand their plans and aims for active travel infrastructure to implement innovative, sustainable solutions.
Each local authority has its challenges to navigate in the journey to the new era for cycling and walking, but we will all see the benefits of modal shift at individual, community and national levels.
Some of our customers are at an early stage in implementing green travel infrastructure as a direct result of COVID-19, while others have been executing green plans for some time now, with ambitious visions for the future.
Southampton City Council, who we've been working with since 2010, for example, implemented their long-term active travel strategy in 2019, well before COVID-19 struck.
The council's Transport Strategy 2040, Connected Southampton, focuses on an overall model shift to support their ambitious plans for growth in a greener city, which we're actively delivering; with a drive to increase cycling frequency rates as well as the number of public transport users.
Southampton's modal shift from private car use to walking and cycling was accelerated when COVID-19 social distancing measures were enforced in all towns and cities in March of this year.
Remarkably, the city saw a 64% increase of cyclists, with an average of 4,900 people cycling per week, and 60% reduction in cars during the lockdown period.
Our Highway Services Partnership team acted swiftly and efficiently to adapt the network, including installing cycle lanes on some of Southampton's main roads, such as The Avenue. This was all done while strictly adhering to Balfour Beatty's Site Operating Procedures to ensure the safety of our staff as well as the general public.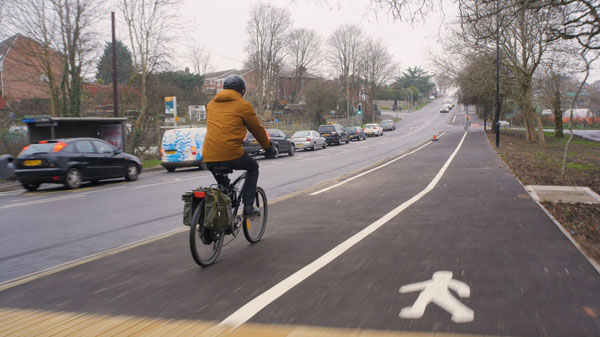 The current situation has provided the Balfour Beatty Living Places and Southampton City Council team with a perfect testbed for active travel installations.
Pete Boustred, head of green city and infrastructure at Southampton City Council, said: 'Over the course of the COVID-19 lockdown, we saw a significant increase in active travel across Southampton, resulting in lower levels of road traffic and air pollution.
'This presented us with a golden opportunity to boost our plans for a greener, fairer and healthier city, while making sure that people could travel safely in line with social distancing guidance. Our Green Transport Recovery Plan has enabled us to respond effectively to this opportunity and support a successful, sustainable and innovative recovery.
'Working together with Balfour Beatty Living Places to deliver the plan, we have already put in place a number of measures that are successfully supporting social distancing, active travel and economic growth. It is testimony to our strong working partnership that we have been able to mobilise so quickly and that our transport system remains fit to meet the changing demands facing our city.'
Another of our customers implementing an active travel strategy is Solihull Metropolitan Borough Council. As part of their £16.8m Wildlife Ways project – part-funded by the European Regional Development Fund - we are developing 15 permanent cycle routes in Solihull.
In a similar way to our partnership with Southampton City Council, COVID-19 allowed us to get ahead of the Wildlife Ways programme and we are on track to deliver 24km of new cycleways across Solihull. As a result, it will be possible to get around much of the borough without using a car!
The cycle routes improve connections between some of Solihull's built-up areas. The routes also benefit from wildflower, tree and bulb planting, encouraging wildlife – particularly pollinating insects. This vastly improves the appearance of the routes and is great for mental and physical health.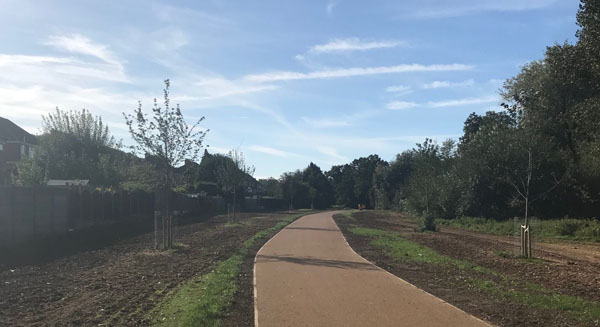 The Wildlife Ways programme was procured through the Scape National Civil Engineering framework. The framework allows public sector bodies to commission works through a procurement process that provides the fastest route to market and utilises early contractor engagement to deliver best value solutions and social value.
Cllr Andrew Mackiewicz, cabinet member for climate change, planning and housing, Solihull Metropolitan Borough Council, said: 'The new and improved routes make it easier for people to walk and cycle across the borough and in turn, less dependent on their cars – good news for the environment, air quality and our health.'
Mark Robinson, Scape Group chief executive, said: 'Against the backdrop of the Government's green recovery agenda, the programme is a great example of an initiative that is designed to lower carbon emissions and help the community become more active. We're thrilled to have helped to accelerate this development through our framework and the high-quality work delivered by Balfour Beatty will enable the residents of Solihull to enjoy the environmental and wellbeing benefits that this important cycle route has to offer.'
Other customers face different challenges when adapting the streetscape and promoting active travel. For example, rural networks and historic market towns with narrow streets provide less manoeuvre for greater apportioned spaces for active travellers. As such, this requires some creative and innovative thinking from Balfour Beatty Living Places, our strategic partners and our customers.
Government support has allowed us to bring forward exciting active travel plans and projects for our customers, which otherwise could have taken a considerable amount of time longer than the advanced delivery dates.
However, we must keep our foot on the bicycle pedal and grasp this opportunity to reimagine our public spaces and infrastructure. It's vital that we move from temporary green provisions to more permanent green infrastructure and, in so doing, improve travel for communities throughout the country.