Road safety experts have called on the Government to maintain EU vehicle standards after Brexit and not bow to pressure to accept US or Australian regulations under any free trade agreements.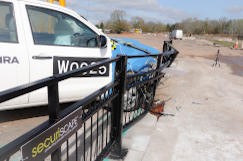 The UK standards are currently the same as those of the EU. According to research by UK, Swedish, French and US organisations a typical EU/UK car is 33% safer than a typical US model when it comes to the risk of serious injury in front and side impacts.
And transport consultants at TRL have estimated that between 2002 and 2020 improvements in vehicle crash protections in the UK produced an 11% reduction in car driver deaths with a predicted cumulative saving of 1,632 fatalities.
Tougher vehicle regulations potentially explain why the US road death rate by population is four times the UK's. US pedestrians are worst affected, with 50% more killed in the past decade.
The Parliamentary Advisory Council for Transport Safety (PACTS) has written to international trade secretary, Liz Truss, warning against adopting the lower US safety standards in order to secure a free trade agreement.
'US vehicle safety standards are significantly less safe than UK standards (which are based on EU standards), particularly front and side impact ("T bone") protection for car occupants. Furthermore, US and Australian standards do not include a requirement for safer car fronts or collision avoidance systems to protect pedestrians and cyclists in all new cars,' it said.
PACTS raised concerns about US vehicle imports, pointing out that the vehicle fleet in the USA is very different to the UK's with SUVs and light pick-up trucks forming the majority of private vehicles.
'Such vehicles have poorer front and side impact protection and almost none of the pedestrian protection standards adopted here and would have severe implications for UK road users, increasing casualties and deterring walking and cycling,' it stated.
David Davies, executive director of PACTS, said: 'The UK has been at the forefront of vehicle safety standards over past decades and is set to adopt even higher standards to protect pedestrians and cyclists from 2022. These do not apply in the US which has a very poor road safety record, particularly for pedestrians.
'The UK public has already made clear its objection to chlorinated chicken. If the government wants to see the increase in walking and cycling that it has advocated we must not import hormone-fed vehicles.
'The UK has a relatively good road safety record. Improved vehicle safety standards, often based on UK research and development, have been a major factor in achieving this. By contrast, the USA has, for an advanced industrialised country, a poor record that is getting worse. Their path in vehicle safety is not one we should follow. Nor should it be left to consumer choice – this does not work.'
The Society of Motor Manufacturers and Traders (SMMT) also stated that 'reduction of bilateral technical barriers to trade should not result in new obstacles to trade with other key trading partners, lower safety and environmental standards or UK specific technical standards and regulations'.
PACTS called on the Government to ensure that:
no vehicle is imported to the UK with lower than EU vehicle safety standards;
no vehicle is imported to the UK without recently agreed EU vehicle safety standards that will be mandated from 2022;
the mutual recognition process for car safety standards focuses directly on comparisons with prescribed crash protection standards which affect the structure of vehicles and injury mitigation in the event of a collision, as well as Advanced Driver Assistance Systems (ADAS) to prevent collisions.