Leading highways software supplier Buchanan Computing is celebrating its 25th birthday this year with the launch of a national platform that enables people to view the UK's parking and other kerbside restrictions for the first time.
The new service is part of the latest iteration of Buchanan's existing traffic order management application, ParkMap - used by more than 90 local authorities accorss the UK.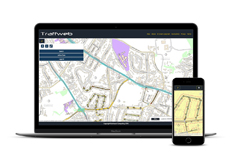 The latest platform also includes an API, 'opening the door for applications to stream the data being provided to create an augmented reality of the real world highlighting which traffic restrictions are in force,' the company said.
This cloud-based service supports the wider smart city agenda and could allow third parties such as motor manufacturers to create more intelligent vehicles that can navigate UK roads more easily.
It also provides services that could enable driverless cars to navigate the UK's complex roadside restrictions.
Alex Smith, managing director of Buchanan Computing, said: 'This new service is a first and represents a significant step forward for the sector as such a comprehensive set of data for traffic and parking regulations has never been available before in one place on a cloud-based platform.
'The technology not only covers all kerb side controls but also incorporates daily live feeds from each local authority and will provide a real boost for future technology around smart cities and the job of helping to integrate smart initiatives with existing economic development and public service delivery plans.
'Our company has been at the forefront of technology surrounding traffic regulations for over 25 years and this latest evolution of our digital rules of the road once again breaks new ground in its use of data. We are sharing publicly-owned data via this service with the aim of enabling others to develop their own applications needed for the successful delivery of smart cities agenda. We are therefore keen to work with innovative partners in relevant industries such as motor manufacturing and other transport application developers to use this data to help drive that forward.'
As local authorities update and create traffic orders within ParkMap, these are transferred into standard format and published onto Buchanan's national cloud service for consumption by other applications such as in-car navigation systems.
Data is supplied in an 'open format', enabling it to be easily utilised within mapping applications including Web Mapping layers or 3D visualisations. The service also covers Department for Transport supported formats such as APDS and TROD.
The platform can also accept data feeds from other non ParkMap systems, therefore providing the UK's first national data set of traffic order kerb side controls.
Pilot versions have been trialled by Essex County Council among others, but the latest version has been developed to standardise the data.
A demo of the new platform can be found here.
Buchanan Computing has been at the forefront of developing innovative technologies in the roads and traffic sector since the 1990s.
Among its many 'firsts', there has been its pioneering work in the use of map-based schedules and cloud computing services for the first time to traffic and highway teams.
It continues to make a significant contribution to the development of open standards for traffic order and parking data.