Paul Fleetham, managing director of Tarmac Contracting, celebrates the amazing work of the highways sector as it keeps up the fight against COVID-19.
It's often said that a crisis brings out the very best in society.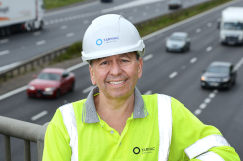 In what has rapidly become the most challenging period our nation has faced in peacetime, it has been incredibly uplifting to see the support for those playing vital roles in the battle with COVID-19, from the NHS staff bravely risking their lives on the frontline to the delivery drivers and supermarket workers keeping us fed.
Also very welcome was the Government's announcement that those working to maintain our water, rail and road infrastructure have been accredited with key worker status.
This announcement has been a long time coming, but it's positive that – however belatedly – the teams working on the road network, together with those working in nationally significant manufacturing plants and quarries producing material for critical supplies, are beginning to receive some long-deserved recognition.
It was similarly pleasing to receive a letter from Alok Sharma MP, secretary of state for business, energy and industrial strategy, praising the wider construction industry's efforts and contribution during the ongoing crisis.
There must be an understanding and awareness that in order to get staff, patients and urgent medical supplies safely to our hospitals, those supplying and installing the materials to maintain critical highways assets are needed, and they also play a key role in keeping society moving.
This needs to be reflected in the narrative about the importance and benefits of a well-maintained, resilient and safe road asset.
When we emerge from the coronavirus crisis, it's important that Westminster and Whitehall don't lose sight of this, particularly in a challenging economic landscape.
Like all organisations with key workers, their safety and wellbeing are paramount. We're adapting the way we are working and are exceptionally proud of our teams for their resilience and focus on doing things the right way.
An example of these key services is our Harper Lane asphalt plant in Hertfordshire, which is among a network of critical plants operating to serve nationally strategic infrastructure including the M25, where Tarmac is working with ConnectPlus to provide essential road maintenance services.
On the M25, where carriageway maintenance is required, we are no longer implementing junction to junction closures but configure our traffic management to ensure a minimum of one lane always remains open 24 hours per day. This way we can guarantee essential supplies and emergency workers will not be diverted away from the quickest and most direct routes.
To ensure the health and wellbeing of our employees, which is and will always be our absolute priority, we have hired a significant amount of additional transport to take colleagues to site in a way which adheres to the social distancing guidelines provided by the Government and public health bodies.
Beyond this, we have also introduced a company-wide Tarmac COVID-19 safety standard. This sets out robust measures and commitments to guide our teams through assessing, managing and mitigating any potential risks during this challenging period and managing all operational activity in strict accordance with the required protocols.
Fundamental to this remains the principle that if anyone at any time feels uncomfortable or unsafe, they are encouraged and empowered to immediately stop working and raise these concerns so they can be addressed.
By taking these measures quickly and ensuring all of our highways projects are conducted in compliance with Government health advice, it is possible for us to continue to play an essential role in keeping our national transport networks safe and open at such a vital time.
While it may have taken a crisis of this scale for some to recognise our workforces more widely as critical to national infrastructure, now is the opportunity to showcase how a resilient and well-maintained highways network can support the NHS, society and the wider economy.
In this time of turmoil, let's continue to support and celebrate all of our key workers, whose adaptability and resilience are ensuring that everything is being done to keep our roads open and society moving. And once we emerge from this crisis, let's equally make sure that their invaluable contributions are not overlooked.
#HighwaysHeroes