Oxfordshire County Council has urged residents and road users 'to engage constructively' with its consultation on trial low traffic neighbourhoods (LTNs) after vandalism costing £12,000 in a month.
The council said damage to traffic filters around east Oxford, as well as the Cowley area where trial LTNs were installed in 2021, is creating significant safety concerns, as well as a substantial cost to the taxpayer. The cost of damage to bollards and planters has now topped £12,000 since the measures were launched on 20 May.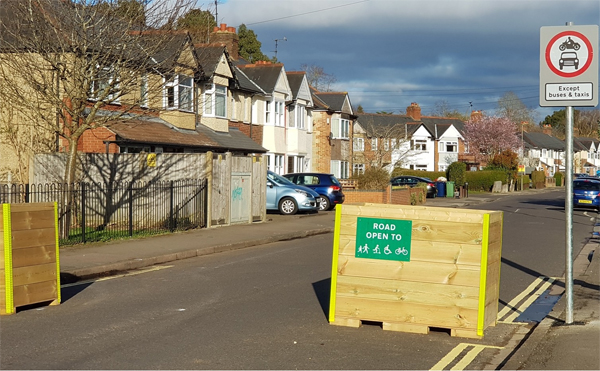 It said it will continue to make safe and reinstate all damaged bollards that have been forcibly knocked down or uprooted and is currently in the process of replacing filters on a number of roads.
Andrew Gant, cabinet member for highways management, said: 'The damage that has been done has not only created confusion and increased the risk of traffic incidents, but it may also prevent emergency services being able to gain access if the mechanisms allowing the bollards to be lowered are impacted.'
He added: 'I understand that some community members are voluntarily creating human barriers to vehicles trying to enter LTN areas through damaged filters. But I would again urge that people are mindful of their own safety and wait for bollards to be restored where they have been removed.
'We are committed to listening to all views on these experimental measures and the right way to make your voice heard is to take part in our public consultation.'
The council said the aim of LTNs, where motorised traffic is prevented from taking shortcuts through a residential area by traffic filters, is to create quieter and safer streets which have a positive impact on the health and wellbeing of local residents and encourage people to make more local journeys by bus, by cycle or on foot.