The Government is considering imposing a statutory duty on local authorities to plan and deliver for electric vehicle infrastructure.
The move is part of a regulatory review of the zero emission vehicles landscape, which could introduce a raft of new legislation and regulations to support the uptake of electric vehicles.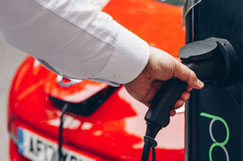 A consultation is being carried out through the Office for Zero Emission Vehicles (OZEV) - a cross-departmental government team - on the potential changes, including new legal duties for councils in England and Wales.
Primary legislation and regulatory shake-up
Under the wider plans, primary legislation would give ministers the power to introduce requirements in four areas:
a statutory obligation to plan for and provide charging infrastructure
requirements to install chargepoints in non-residential car parks
new powers to support the delivery of the Rapid Charging Fund
requirements to improve the experience for electric vehicle consumers
OZEV said this 'will ensure that there is a sufficient charging infrastructure and appropriate consumer protections in place to meet the needs of electric vehicle drivers'.
Ahead of any secondary legislation to introduce the statutory requirement on local authorities, the Government would consult on the duty, including any relevant definitions, metrics and other measures applicable.
OZEV said other options include placing the duty on chargepoint operators themselves, or energy companies.
Currently, local charging infrastructure provision such as on-street and rapid hubs is installed at the discretion of local authorities.
OZEV argued that while many local authorities have taken positive steps towards planning this infrastructure 'others have not yet identified what is needed and risk not meeting the current and future needs of their communities'.
The news comes after the National Infrastructure Commission recommended that Government should place a requirement on local authorities to allocate 20% of their parking spaces, including on-street, to be converted to electric vehicle charge points by 2025.
Car parks
OZEV is also seeking powers to require landowners in England to provide a minimum level of EV charging infrastructure in non-residential car parks.
These powers would apply to all existing non-residential car parks and new non-residential car parks, not associated with a building. The move follows a government pledge to lay legislation e before parliament later this year that would require new residential and non-residential buildings with car parks to have EV charging infrastructure.
The new proposals for car parks would apply to
existing non-residential car parks and new non-residential car parks that are not covered by existing legislation
both publicly accessible and restricted access car parks provided for a particular group (such as workplace car parks)
If these new powers were granted OZEV would identify an appropriate enforcement body that can operate at a local level to monitor the implementation.
'For example, we are considering local weights and measures authorities or local authority building control bodies, with enforcement bodies able to apply a scheme of penalties.
Customer experience
Following Government moves to improve reliability and ease of payment on the public charging network, OZEV is proposing new primary powers to:
ensure adequate consumer protections when encountering issues using the public charging infrastructure
set accessibility (inclusive design) and safety standards at public chargepoints
mandate aspects of chargepoint design such as familiarity, look and feel, and which will include accessibility and safety features
There would also be new powers to require financial redress for consumers and penalties if bodies breach any of the requirements. Ahead of introducing secondary legislation, the Government would consult on any proposed approaches.
Rapid charging fund (RCF)
The upcoming £950m RCF is designed to future-proof electrical capacity at motorway and major A road service areas in England.
It is not open for applications yet, however the Government has identified a legal risk 'because the majority of motorway service areas in England have an exclusive provider of open access chargepoint services'. This could lead to any funding being challenged on state subsidy or other grounds.
As a result the Government is considering new powers to make the exclusive elements of existing chargepoint service arrangements void and unenforceable.
Service area operators and large fuel retailers would be required to:
tender chargepoint service contracts openly
have a minimum of 2 – and at some sites more than 2 – different chargepoint operators at any particular site
The consultation closes on 22 November. You can find out how to respond and all the details here.