The Department for Transport (DfT) has corrected Chris Grayling on his own conference speech, after he mistakenly claimed that all money from 'car tax' goes back into improving roads.
In celebrating the undoubted increase in roads funding in recent years, the transport secretary went a step too far and said: 'We have launched the biggest roads upgrade programme for decades, investing every penny you pay in car tax back into improving the roads you drive on.'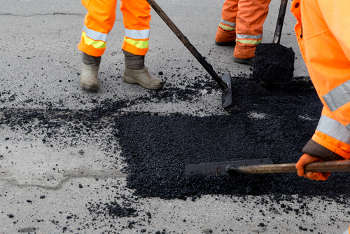 Comparing all spending on roads with fuel duties and vehicle excise duties leaves the motorist around £25bn down.
In fact, Vehicle Excise Duty (VED) - commonly called car or road tax - is not currently a hypothecated tax and raises billions more than is spent on roads by the DfT.
The department has committed £6bn to local roads from 2015/16 to 2020/21 and £15bn from 2015-2020 to Highways England, which manages the strategic road network. This makes a total of around £4.2bn a year.
In 2016-17 VED brought in around £5.8bn and the Office of Budget Responsibility expects VED to raise £6.2bn in 2018-19.
This leaves the motorist at least £1.6bn down per year.
Funding from the communities department also goes towards to the revenue side of local highways; however this cash has been subject to severe cuts over recent years and, as it is not ringfenced, councils often underspend.
Latest government documents place total combined revenue highways and transport net expenditure at close to £3.994bn for 2017-18. However, according to official figures from June this year, local government was budgeted to spend £4.24bn over 2017-18 on these services.
Correspondingly, if one adds in fuel duties as a revenue car tax - these being a tax and necessary to running a car - 2016-17 figures released this May state that a further £27.9bn is brought into the Treasury.
This leaves the car driver at a minimum, excluding VAT and including local transport spend, down £25.5bn on money brought in versus money spent on roads.
A DfT spokesman told Highways that from 2020 all road tax - meaning VED - in England will go to the National Roads Fund, which will be spent on improving the strategic and major road networks.