Statutory guidance for highways permit schemes has been updated following the launch of the Government's new digital platform for planning and managing road works on Wednesday.
The guidance has been updated following the introduction of the Street Manager digital service for registering roadworks, which launches today (1 July), as well as a change to the advice on signal removal from operation when no longer needed.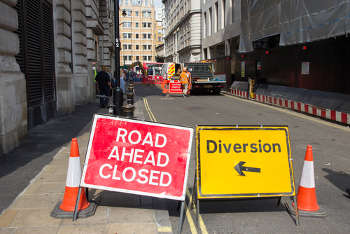 The updates reflect changes to the Traffic Management Permit Scheme (England) Regulations 2007.
'From 1 July 2020, highway authorities must follow the guidance if they choose to operate, vary or introduce a street works permit scheme,' the Department for Transport (DfT) has said.
Authorities and utility companies can use 'Street Manager' to:
apply for street and road work permits
assess permits
record inspections
add reinstatements (after work has been completed)
Data in Street Manager is freely available through an API (Application Programming Interface). To create a new account on the API platform, you need to work for a local highway authority in England, or a utility company or a contractor employed by those organisations.
You also need to know who the 'primary contact' is in your organisation – the person with authority to sign you or your organisation up to the service.
If your organisation is already registered on Street Manager, your primary contact should be able to create a user account for you. If your organisation is a utility company, you will need a Street Works Act (SWA) code which confirms you have a legal right to carry out works in the highway.
To find or create your organisation's SWA code, visit GeoPlace.