The Department for Transport (DfT) plans to update the key statutory code of practice for street works, increasing the guarantee on road openings from two to five years and introducing new asphalt standards.
Transport secretary Chris Grayling has launched a consultation on the plans, which would mean if a pothole forms as a result of utilities work within five years, the company must return to bring the road surface back to normal.
When carrying out street works, utility companies - providers of water, gas, electricity or telecommunications services - must reinstate the highway to prescribed standards.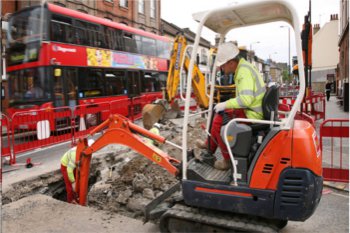 These are set out in the Specification for the Reinstatement of Openings in Highways, a statutory code of practice, which was last updated in 2010.
DfT officials state the current code is giving 'rise to avoidable disputes between utilities and authorities and it has become a barrier to the introduction of new materials and technology'.
The changes are estimated to be worth around £100m over 10 years as a result of reduced reinstatement times and reduced remedial work, leading to a reduction in congestion and in turn improved journey times, reliability and reduced fuel costs.
'There will also be benefits to society as a result of reduced accidents and reduced fuel carbon emissions due to less congestion.'
The consultation on reforming this document will introduce a range of new regulations including new asphalt standards, to keep roads pothole-free for longer.
Transport Secretary Chris Grayling said: 'Road surfaces can be made worse by utility companies, so imposing higher standards on repairs will help keep roads pothole-free for longer.
'The proposals also allow for new innovative surfacing to be used, such as asphalt with a high bitumen content that is easier to compact to the required density. This makes it less prone to potholing.'
Other key changes cover issues including:
Air voids – new materials
Air voids – laboratory testing
Innovation
Micro trenching
Works in sub-standard roads
Infills in modular surfaces
Permitted use of previously alternative materials
Large diameter coring
Clarifications
This consultation will last 8 weeks until 6 May.
Reaction
Utilities companies rejected the plans. Clive Bairsto, chief executive of Street Works UK, the trade association representing utilities and their contractor partners, said: 'We do not believe that proposals to increase Guarantee Periods are necessary or will be effective.
'The Government should not take forward proposals unless they are supported by a strong evidence base. Utilities and their contractor partners play a vital role in delivering and maintaining vital infrastructure which powers the economy, and it is crucial that any new regulations are proportionate.
'We welcome the opportunity this consultation provides to consider how the street works policy framework can encourage and enable greater innovation. This will allow utilities and their contractor partners to undertake work to an even higher standard more quickly, reducing disruption for motorists.'
However the moves were wlecomed by others.
RAC head of roads policy Nicholas Lyes said: 'This on the face of it is a very sensible and welcome idea. Utility company roadworks should not lead to an overall worsening of road surface quality.
'The next logical step that could make a far greater difference to the standard of the country's local road network is to ensure all road contractors working for local authorities have to provide the same guarantee. The quality of road maintenance, whether that's repairs or resurfacing, needs to come under closer scrutiny to guard against substandard workmanship.'
Cllr Martin Tett, Transport spokesman for the Local Government Association, said: 'Increasing the guarantee period on utility firms' roadworks is good news for motorists and cyclists. Helping to ensure any shoddy road repairs will be the responsibility of contractors to put right at their expense and not passed on to the taxpayer, will save money from councils' stretched budgets.
'Introducing new asphalt standards will also make roads less prone to potholes which councils are fixing every 21 seconds.'
He added that the Government should address the overall backlog in repairs in the forthcoming Spending Review.