The Department for Transport (DfT) and partners are preparing to award contracts for work that could support major reforms, including updates to traffic regulation orders (TROs) and guidance on the design of streets.
TRO reform
TROs are undergoing a programme of reforms based around modernising and digitising the data and processes, with an eventual consultation on options expected, Highways understands.
Traffic orders are required to make and enforce changes to a road's use or its design and can be either permanent, temporary or experimental.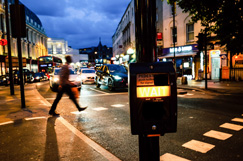 Recent legislation connected to COVID-19 brought in new emergency procedures to help councils put measures in place urgently, but the wider reforms go much deeper and were already planned before the coronavirus outbreak.
The Department for Transport's (DfT's) head of traffic and technology, Anthony Ferguson, described TROs as the fundamentals of how traffic is regulated at a local level.
Mr Ferguson told delegates at ADEPT's traffic management conference this week: 'We are making good progress at looking at TROs. We produced an alpha report in August following discovery work we had done previously.
'We are now at the point of awarding a contract to develop the data model, which is all about digitising and modernising TROs. The digital aspect is to make it a data-driven process and the modernising of it is to make the process better and avoid the pain points and jargon highlighted in the discovery process.'
Manual for Streets 3
The DfT is working with the Chartered Institution of Highways and Transportation (CIHT) on another version of the much praised Manual for Streets series.
The CIHT is in the process of appointing a consultant, due to be in place next month, with the final publication of the new Manual for Streets due in January 2022.
The revised Manual for Streets will bring together the existing Manual for Streets and Manual for Streets 2 and will be key guidance for anyone working in the highways and transportation sector.
A groundbreaking document when it came out more than 10 years ago, Manual for Streets (2007) and its sequel in 2010 introduced new ideas of place to the design of residential roads.
Emphasising ways to lessen the impact of traffic the document aimed to help designers make the local environment convenient and attractive to walk in.
Mr Ferguson said: 'We are working with CIHT at the moment to produce a consolidated revised version of manual for streets, which is very much part of the planning framework landscape. That work has already started. They are bringing consultants in to support them. That will happen over the next year or so, so again this is a major document for practitioners and we have worked hard to deliver something you need.
E-scooter trials
The DfT is up to around half a dozen e-scooter trials across the country despite one in Coventry being put on hold after reports too many riders were using the scooters on the pavement.
The next phase is to appoint a team to monitor the trials and collate data to help inform policy, including the potential legalisation of e-scooters on UK roads.
Mr Ferguson revealed: 'We are just about to let a major contract for the monitoring and evaluation [of the e-scooter trials], which is going to be critical to the whole thing.
'We will be collecting a huge amount of data to develop options about what we should do; do we want to legalise? If we do, in what way; what constraints; what powers local authorities might need, what technical specifications, where can they go?'