New research from the RAC has found that more than a fifth of motorists have driven in a lane closed by the red X sign in the past year.
Highways England welcomed the study and confirmed that it is still awaiting 'the relevant approvals from government' to use cameras to enforce red X and similar offences.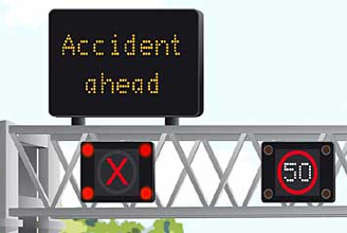 The RAC said that with hundreds of miles of smart motorways across England now using the hard shoulder as either a permanent or part-time running lane, drivers ignoring red X's are are potentially putting lives at risk.
It said that 23% of drivers surveyed admitted to having broken this 'rule of the road' by disregarding the red X, either 'occasionally accidentally' (19%), 'often accidentally' (1%) or 'occasionally on purpose' (3%).
Nearly all (99%) correctly understood that the sign signifies that the lane is closed. For 87%, their first action is to move, when safe to do so, into another lane which is not closed while the remainder (13%) say they change lanes as soon as they possibly can but admit they might pass 'one or two' red X signs before doing so.
Nearly half (48%) of those questioned said they frequently saw drivers driving through the signs and more than a third (36%) said they saw this occasionally, with only 7% saying they do not see drivers ignoring red X signs.
RAC spokesman Simon Williams said: 'Smart motorways are now very much part of the fabric of England's motorway network and will become even more commonplace in years to come with more being opened all the time.
'Red X signs are paramount in safety terms as any stricken driver who has not managed to reach an SOS area is at tremendous risk of being involved in a collision with vehicles that ignore them. It is also extremely dangerous if road workers or emergency service staff are attending to incident in the road.'
The RAC acknowledged that Highways England has been working to improve compliance with red X signs and issued more than 160,000 warning letters to drivers who had either used sections of hard shoulder when not designated as a running lane or had failed to comply with a red X.
However: it remains unclear why red X offences cannot be prosecuted on the basis of evidence from a remote or automated device such as a gantry-mounted camera.
The RAC pointed out that in 2017 the Government amended the Road Traffic Offenders Act to allow this but said that 'legislation still has to be completed before the technology can be used in enforcement'.
Highways England said it was 'still awaiting the relevant approvals from government in order to commence with automatic enforcement', while the Home Office said it was 'working towards providing type approval for the relevant technology'.
A Highways England spokesperson said: 'We welcome the research from the RAC which, along with our own, supports and reminds drivers of the dangers of ignoring a Red X, and what to do if they come across one.
'Most drivers are making the right decision when faced with a lane closed by a red X and the work we have done to date has seen improvements in compliance levels nationally; meanwhile we have an ongoing programme of activities to help ensure this trend continues.'