Registrations of new all-electric and hybrid vehicles rose significantly last month, despite an overall fall in new car sales.
The Society of Motor Manufacturers and Traders (SMMT) reported total registrations of hybrid electric vehicles (EVs) of 10,249 in April, up 12.9% on the same month last year (9,077). Year-to-date EV sales are up 14.3%.
Registrations of battery EVs rose by 63.3% from 929 to 1,517 between April 2018 and April 2019, while registrations of hybrid petrol-electric vehicles rose by 31.1% from 5,193 to 6,810.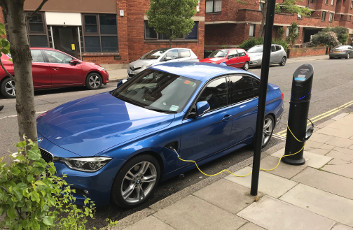 However, following restrictions last year on the value and criteria for grants for plug-in vehicles, which excluded many hybrids, registrations of plug-in hybrid EVs (pictured) fell by over a third (34.4%) from 2,929 to 1,922.
Overall plug-in and hybrid EVs had a 6.4% share of a total of 161,064 new car registrations, which was down 4.1% on April 2018. In the year to date new registrations are down 2.4%.
SMMT chief executive Mike Hawes said: 'While it's great to see buyers respond to the growing range of pure electric cars on offer, they still only represent a tiny fraction of the market and are just one of a number of technologies that will help us on the road to zero
'We need policies that help get the latest, cleanest vehicles on the road more quickly and support market transition for all drivers. This includes investment in infrastructure and long term incentives to make new technologies as affordable as possible.'
The RAC's head of external affairs, Pete Williams, said: 'We are getting close to a tipping point where buying an electric vehicle is an increasingly credible option for many. Ultimately price is the biggest sticking point although prices will begin to fall as demand grows.'
Separately, an AA poll of 19,350 drivers found that the biggest current stumbling block for more than one third (35%) of drivers is the higher cost of EVs compared to their petrol or diesel equivalent.
AA president Edmund King warned that practical measures will also be needed before 'mainstream motorists' will be persuaded to buy EVs.
Speaking at an industry event, he said: 'It is easy to say that all new cars should be electric by 2030 or 2035 or any arbitrary date but the reality is that much still needs to be done in terms of addressing the legitimate concerns of drivers regarding cost and supply of vehicles, as well as, improving range and the ease of charging.
'The big game changer for 84% of drivers will be when car manufacturers can offer the right car at the right price. Throughout history we have seen certain iconic cars break the mould and transform the market from the Model T Ford through to the Morris Minor, Mini or Beetle. Once we get a mass market, stylish, affordable, practical EV with a decent range, it will sell like hot cakes.'
When asked 'what would it take for you to choose a battery electric vehicle?' the responses were:
35% - EVs cost the same (or less) than petrol/diesel
33% - Real world range > 250 miles on a single charge
27% - A lot more charging points where I park
25% - Hundreds of rapid chargers along strategic roads
16% - More choice of cars
15% - Penalties for driving petrol/diesel become too high