As far as we know, there are only two times in the almost 90-year history of this magazine that we have not released a scheduled printed edition. The last time was in the wake of the economic crash of 2008. And here we are again.
This April issue has not been sent to empty offices; it is being sent digitally to wherever you are. And it comes with this simple message from everyone in our team: No matter what the future holds, no matter what happens in the next few months, Highways is here for you.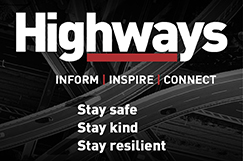 If at any time you need us, for anything, even just a chat, we are here, so get in contact. This sector has supported this magazine through a world war, an economic depression, recessions and much else. We know in some cases that means we have done business with generations of the same family.
It is our honour to be working with this generation as we rise to meet another great challenge – which we will come through together. In that spirit, we have introduced a new feature this month – a community message board.
It is free to all of you. Your message might be new contact details for remote working, a thank you to your team, it might be just that you are carrying on, or the offer to share help and supplies.
It is a chance to let everyone know you are keeping up the good fight in whatever way you can. Because we all have a part to play, whether that is by self-isolating and stopping the spread of the COVID-19 disease, or carrying on, delivering essential work to keep the network functioning.
I sent my own message to the team this month, and I will pass it on to you because it goes for all our readers too. We don't just work for ourselves; we work for the entire sector. Times are tough right now, and no one knows what the future holds. But never doubt that you are an amazing team and the days I have spent working with you have been the proudest of my career.
These are strange times. It feels like we are living in a cross between a disaster movie and a never-ending version of the week between Christmas and New Year – except you can't even escape to the pub.
But this isn't the worldwide disaster that movies told us to expect. As many have pointed out, this is the one where the heroes are the NHS staff, delivery drivers, cleaners, supermarket workers, local and central government officers, and yes, of course, our highways and transport teams. All of whom are doing what they can, and risking so much, to keep the country going.
It is too early to say much for sure, but even as I write, there are a few cracks of light coming through the clouds. The dreaded curve is being flattened; some countries are through the worst and others are turning the corner.
We are starting to see our way through to the end of the beginning. And after that comes the beginning of the end.
If things seem dark for you at the moment, please remember these words by poet Seamus Heaney: 'Hope is not optimism, which expects things to turn out well, but something rooted in the conviction that there is good worth working for.'
Even when you can see little reason for optimism, there are always grounds for hope.
Stay safe, stay kind, stay resilient.
Editor: Dominic Browne