Eurovia Contracting has become one of the first contracting companies in the sector to achieve certification in the new international standard covering Building Information Modelling (BIM).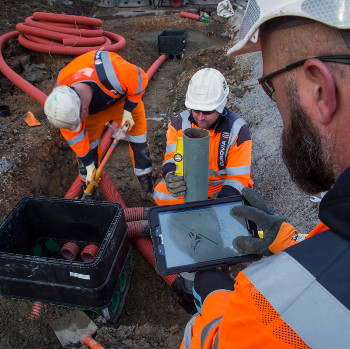 Launched in January 2019, ISO 19650 sets out how construction scheme information should be managed and exchanged, so that 3D models become useful commodities.
Eurovia said BIM is common in building construction but less so in highway construction. It involves creating a 3D model of an asset, often referred to as a 'digital twin', with embedded details of individual components, which is used by all parties involved on a project throughout its lifecycle, including design, construction, maintenance, operations and upgrades/demolition.
Digital construction manager Philip Reid said: 'At Eurovia, we have an aim to digitally 3D model every project before building it in reality. We are well on our way to embedding this digital focus into our working practices, delivering real added value to our customers and partners.'
Eurovia Contracting managing director Phil Skegg said: 'This certification is a fantastic validation of the way in which our business is thinking differently. There are many others using BIM technologies and processes, but Eurovia Contracting has embedded this into the way we work – pushing ourselves and our customers to embrace the benefits that digital working can deliver on-site for collaborative, safer, more sustainable projects.'
Eurovia said the auditor gave a positive recommendation at the final verification stage last month and praised the standard of the processes that are now in place.
The firm said the certification reflects its wider commitment to improving its design and construction capabilities, 'ensuring that the benefits delivered to clients and the public are maximised'.