Eurovia Surfacing has outlined the range of safety strategies that have enabled it to maintain critical operations on the strategic road network (SRN) to support Highways England.
Extensive practical measures to ensure that the works can be carried out safely include operatives arriving on to site in individual vehicles, staggering safety and operational briefings, remaining at least two metres apart at all times and increasing the number of available handwashing facilities.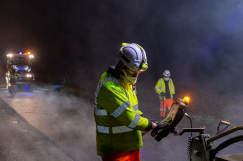 Despite the challenge of revising the way Eurovia teams work, they are still delivering the required works within normal time scales and to the expected standard, the company said.
Working with strategic supply chain partner Tarmac, Eurovia Surfacing has been delivering essential maintenance to parts of the A3, working through the night to ensure these critical road improvements are completed efficiently.
Highway operations play a vital part in the national effort to support key public services, such as the NHS, and keep our country moving during the coronavirus crisis.
Phil Skegg, managing director of Eurovia Contracting, said: 'Our teams are going above and beyond to deliver essential maintenance to our highway network and are developing new ways of working to ensure that this is done in the safest way.
'Our strategic partnership with Tarmac has enabled us to support Highways England in delivering this critical programme of works. I am proud of everything that our key workers are doing to keep our key public services and our country moving at this time.'