One of London's most beautiful landmarks the iconic Hammersmith Bridge, a 132-year-old Grade II listed structure, has had to be closed to traffic indefinitely after safety checks revealed critical faults.
The council laid the blame for the dire situation at the door of central government and funding cuts.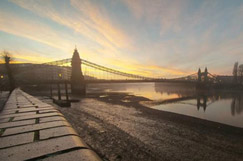 Major repair works are needed including strengthening work and a full resurfacing that will last years.
Around 20,000 vehicles were crossing the bridge every day. It had a 7.5 tonne weight restriction and an agreement with Transport for London that it would only run one bus in each direction at a time, with priority for single decker buses and emergency vehicles.
A fully tested plan to refurbish the bridge has been developed 'but due to government budget cuts, Transport for London (TfL) says it can no longer fund the planned refurbishment' the council said.
'It was never designed for modern traffic. Hundreds of daily journeys by heavy buses cause regular distress to the bridge. That's why we agreed with TfL in 2015 that they would only run one bus in each direction at one time, while we developed a longer-term strengthening plan. But this damage has now reached a critical point,' the council said.
'Closing the bridge is not a decision we've taken lightly and we know it will inconvenience many people. We're sorry for that disruption, but we must put the safety of the public first.'
Repairs timeline
(Date TBC) – Start of full refurbishment (long-term full closure)
Spring 2018 to March 2019 – Analysis of survey results and drawing up of draft designs
Christmas 2017 to spring 2018 – Detailed surveying (some closures/part-closures)
February and October 2017 – Interim repair works (week-long full closures)
Up to February 2017 – Regular monitoring and preliminary assessments