The Chancellor will announce a £30bn investment package for the country's transport network in Monday's Budget, including a £29bn National Roads Fund .
The fund will be created by ringfencing Vehicle Excise Duty and will be worth £28.8bn over five years.
It will cover both Highways England's strategic road network (SRN) and significant local roads defined as part of the major road network. The Treasury said that as well as motorway improvements, the cash could pay for upgrading key routes in local areas with congestion problems or poor links, and major new roads.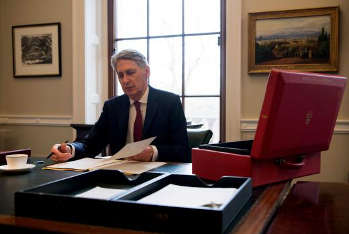 The cash comprises £25.3bn for the second Roads Investment Strategy (RIS2) from 2020-25 and £3.5bn for major local routes. The Treasury described the budget for RIS2 as a 40% increase to Highways England's budget, compared to £17.6bn during the current RIS.
Councils will be allocated an extra £420m for local road maintenance with a further £150m to address local congestion hotspots.
The Transforming Cities Fund will be extended by £680m in 2022/23 while Mr Hammond is also expected to announce an additional £90m for Future Mobility Zones to trial 'next-generation methods of transport.
Matthew Fell, CBI Chief UK Policy Director, said: 'A well-functioning road network is the lifeblood of day-to-day business and the UK has much work to do on this front.
'Investing so significantly in our roads could help ease the all too real delays that people face just getting to work and firms transporting goods to final destinations, let alone travel for any other reason. 'It's not just about providing the funds to create new networks, but to expand existing routes and simply fill the potholes that plague far too many roads in this country.'