Highway Care has added a new member to its senior leadership team to support the implementation of its ambitious growth strategy.
Mark Tonks (pictured) is an industry expert with more than 30 years working at board level for PLCs within the highways sector.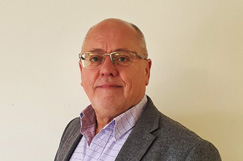 Highways Care - a leading, highway and security turnkey solutions provider - said the appointment of Mr Tonks is part of plans to build on its recent successful integration with key tier 1 contactors and growing portfolio of innovative solutions for road worker safety.
It is now positioned to support the national Road Investment Strategy - particularly through its Regional Delivery Programme and Smart Motorway Alliances - as well as wider transport infrastructure projects such as HS2.
Meanwhile, internationally, Highway Care is expanding the commercialisation of its newly accepted HighwayGuard temporary TL4 workzone barrier, principally in North America and Australasia.
Mr Tonks has previously managed the alignment of management teams and the delivery of robust strategies across a range of work-zone and associated protection solutions.
He said: 'This is fantastic opportunity for me to work with the Highway Care team at this stage of their journey. I'm hoping both my experience and knowledge of the Industry adds some real value. There's an exciting future ahead for all stakeholders within Infrastructure and I'm looking forward to bringing a professional and positive attitude.'
Antony Butcher, Highway Care managing director said: '2021 is a pivotal year for our business with a number of key innovations coming to market and it is critical we have in place an agile and experienced team to successfully deliver these alongside already challenging day to day business conditions. Mark brings a wealth of experience and knowledge and will be hugely beneficial in helping the team realise these ambitions.'
Underpinned by an exemplary site safety record, Highway Care provides a range of turnkey temporary barrier, crash cushion, average speed camera and site access solutions.
The wider business also supplies class-leading permanent barriers, terminals and traffic management safety solutions and shortly expects to receive an endorsement from the Highways England for the UK's first Automated Cone Laying Machine.