The Government has made it clear that the highways and construction sector should continue operating throughout the coronavirus crisis. Taking up the challenge, Highways England has been determined to operate as close as possible to business as usual, even speeding up payment processes to give the supply chain a boost.
With his regular messages to the sector executive director of commercial and procurement, Malcolm Dare, has been leading the charge. He speaks to Dominic Browne about how Highways England is keeping the roads sector moving.
What back up plans do you have to maintain materials and supply chain support as this may start to run dry during the crisis?
Our approach is to maintain flexibility so we can blend in with labour availability in order to optimise resources.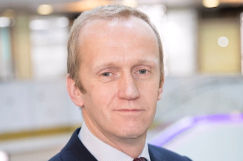 How do you plan to support workers who would be away from home on projects as there are no hotels for them to stay in?
We have adjusted the place of work requirements and also issued letters to companies that have requested them. By doing this we are supporting our supply chain in dealing with this challenge.
Have you established any difference between essential work that must continue and non-essential work that you will shut down? Or will all work continue?
Safety, as always, remains our first priority. Our approach to the COVID-19 challenges is focused on safely maintaining our critical services at all times and minimising the impact on our supply chain, our customers and our staff.
Everyone knows that the roads would be less safe without traffic officers, control rooms and without maintenance and repair teams. Likewise, our construction activities are safest when they are working to plan – we do not want to leave sites unattended and unmanaged due to the risks that presents. Further, we want our roads ready for when restrictions are lifted, traffic returns and the next phase of work is due.
For these reasons, and subject to future Government policy, we intend to continue construction at our sites as close to plan as possible in accordance with the Public Health England guidance. We're following Government advice and will continue to operate as close to business as usual for the foreseeable future to ensure that we support and protect our supply chain.
We ask that all suppliers support their own supply chains in the same way, making a combined effort to minimise the risk to the overall Highways England supply chain.
It has also made it clear that travel is permitted where necessary e.g. for construction workers operating on sites.
We ask the supply chain to ensure that their teams have the maximum possible protection aligned to the latest government advice and that they are minimising the risk of spreading COVID-19 so that we can continue to operate safely while fully supporting our employees and the country.
Is work on smart motorways continuing, including work to highlight emergency areas which is due to be complete this spring?
Yes. We are fully supporting the Government's response to the COVID-19 pandemic in following their policy that construction activity should continue where it can be undertaken in accordance with the Public Health England and industry guidance.
How have your staffing levels been affected by illness and self-isolation?
So far we have not seen a significant increase in absence, but we continue to follow Government advice and taking all appropriate and sensible precautions to protect and support people who work for us and on our behalf; we're also ensuring that in so doing we maintain a safe road network.
How are you liaising with professional bodies and sector representatives to get any messages out?
Yes, we are using trade publications like yours and professional bodies so that we can ensure a breadth of coverage so that all tiers understand our direction and intent. Highways England is part of the Highways Sector Council and we have been joining the regular calls to discuss COVID-19, and we are also liaising with Government to ensure that key messages are communicated quickly and effectively.
Is there any work you are doing now to take advantage of lower traffic levels?
Traffic volumes have reduced as a result of travel restrictions and we're assessing options. We want to ensure that any work we bring forward is planned, necessary and offers value for money and well as being deliverable in accordance with the Public Health England and industry guidance.
Any message to the sector?
We appreciate that these are challenging times and we would like to thank our suppliers for their support. We aim to operate as close to business as usual as possible so we can support the country and the supply base by ensuring cash flows through the tiers.
Should suppliers have any questions, business challenges or ideas that you'd like to share with us, get in touch at Corona.Information@highwaysengland.co.uk or through your normal point of contact within Highways England.