Highways England has U-turned on plans to make a 12-mile section of the A14 upgrade a motorway rather than a best in class A road, meaning it can open sooner.
The 12-mile bypass is part of a wider 21-mile £1.5bn A14 scheme in Cambridgeshire, and is set to open a full year ahead of schedule in December 2019.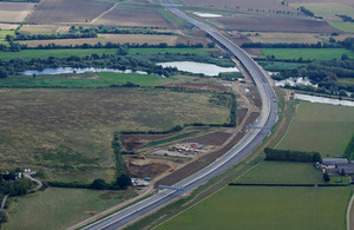 The road will open 'as a best-in-class A road rather than a motorway as originally planned, but the design will remain the same,' Highways England said.
Making the route a motorway would have prohibited various vehicles form using it including motorcycles under 50 cc, cyclists, horse riders, those carrying oversized loads (except by special permission), agricultural vehicles, and powered wheelchairs/powered mobility scooters.
Previously Highways England had said it would mean 'motorists and hauliers carrying goods across the country will be able to travel more smoothly and safely, while local and slow moving traffic will benefit from the new routes we are introducing'.
The section had been due to open in December 2020. The whole scheme remains on track to open to traffic by the end of 2020.
Roads minister Baroness Vere said: 'This government is committed to delivering an infrastructure revolution and it's fantastic that a key section of this vital route will be delivered a year ahead of schedule. The A14 upgrade will not only improve the experience for local drivers but will also boost access between the region's ports and the West Midlands – a key logistics hub.'
Highways England project director David Bray said: 'As well as a significant improvement for drivers, this major milestone will start to realise some of the benefits of the upgrade for residents and communities along the A14 too.
'And it will mean that we are able to start work sooner on the improvements we are making to local roads in and around Huntingdon as we start to dismantle the old viaduct over the train station, which will be a real boost for local communities.'
Work on the upgrade has seen around 10 million cubic metres of earth moved - more than four times the great pyramids of Giza.