Highways England is planning to roll out a safety initiative across its motorway network after hailing the success of a week of action on the M1.
It said there were 64 collisions during the week in May, down from 90 during the previous week.
The week saw the fourth lowest number of collisions of 2019 so far and the second lowest outside school holidays.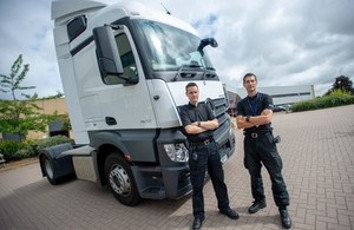 All three of Highways England's unmarked HGV supercabs took to the M1 to capture dangerous driving, with nearly 200 vehicles being pulled over by police officers during the week.
Hundreds of drivers were also given safety tips at motorway services with Highways England's traffic officers joining forces with the emergency services to provide free tyre checks.
Head of road safety Richard Leonard said: 'We've been really impressed with the results of our week of action on the M1 which shows how making little changes to the way you drive can make a big difference to safety on our motorways.
'Our HGV supercabs helped the police identify almost 200 dangerous drivers who could have caused collisions if they hadn't been pulled over, and our safety tips at motorway services and in the media also helped to make the M1 safer for everyone.'
Highways England said similar safety initiatives are now being planned for other motorways across England following the success of the M1 week of action.
The HGV supercabs, which are funded by Highways England, allow police to film evidence of unsafe driving behaviour by pulling up alongside vehicles; drivers are then pulled over by police cars following a short distance behind.
Offences recorded during the week of action included 57 drivers on mobile phones, 37 not wearing seatbelts and 26 who were driving carelessly or not in proper control of their vehicles.
The week of action began with the release of a video showing a driver making a credit card payment by phone
PC Dave Lee from the Northamptonshire Police Safer Roads Team said: 'Our main priority is to reduce the number of people killed or seriously injured on our roads by clamping down on the fatal four offences, which are speeding, drink/drug driving, seatbelt and mobile phone use.'
Tom Cotton, the Road Haulage Association's head of licensing and infrastructure policy, said: 'A minority of drivers think it's okay to endanger other road users by taking unnecessary risks behind the wheel – it's not. No phone call or text is so urgent that it can't wait until the driver is safely parked.'
Highways England said a new campaign is currently taking place highlighting the basics of motorway driving, including what drivers should do if they break down, keeping left except when overtaking, and obeying red X and variable speed limit signs.
Motorways are statistically the safest part of the strategic road network based on volume of traffic, with single carriageway A roads having a casualty rate six times higher.