The Institute of Highway Engineers (IHE) has announced a series of short online workshops to teach the basic components of winter service delivery.
The course will cover the main components needed to operate winter services for a local authority or roads organisation and will provide applicants with six CPD hours.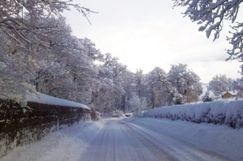 'It is intended for those who have general responsibility for winter services but not on a day to day basis and as an introduction for those who are undertaking winter services as new responsibility,' the IHE said.
There will also be time in each session for Q and A and a set of course notes will be supplied.
The news comes after the IHE became an official partner of the National Winter Service Research Group with a secretarial and administrative support role.
Programme Outline
The course takes place over two days on 8 December and 15 December, covering a series of 45-minute sessions.
Part one
Session one – the legal background
Session two – the required paperwork
Session three – plant and equipment
Session four – workforce planning
Part two
Session one – meteorology for beginners
Session two – making the right decision
Session three – communication issues
Session four – severe weather
To find out more visit the IHE training page.