Hertfordshire County Council has appointed Interserve Construction to carry out the final phase of a £23m improvement project on the A602.
Environmental works have been carried out in recent weeks along parts of the route between Tonwell and Watton-at-Stone, including ecological work and the removal of vegetation in preparation for construction to begin this summer.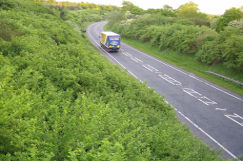 The works will:
Enlarge and improve the Watton-at-Stone roundabout where the A602 meets the A119
Realign the A602 between Heath Mount School and Stony Hill junction to smooth out tight bends
Redesign junctions to reduce delays from traffic turning right
Plant new trees and hedges to improve wildlife habitats along the route
The county council also plans to apply for further planning permission for a cycle path to run alongside a section of the road and has secured the land required to build the new alignment.
The project is funded by an £18.49m Local Growth Fund investment from Hertfordshire Local Enterprise Partnership (LEP) and an additional £5.16m from Hertfordshire County Council.
Phil Bibby, cabinet member for highways and environment, said: 'The A602 is a key route between the A1(M) and the A10, as well as an important road for local traffic, so the improvements we're planning will make a real difference. The tight bends and traffic turning right both cause delays and fixing these problems will help traffic flow more freely and safely.
'With around 100,000 new homes expected in Hertfordshire by 2031, we're expecting an increase in the number of vehicles on the roads, so it's vital that we invest in key schemes to improve the road network and keep Hertfordshire moving as the population grows.'
Improvements have already been made to other sections of the A602, including the Hertford Road junction in Stevenage and the Anchor Lane roundabout and A10 junction near Ware