The Highways Awards 2020 – one of the biggest nights in the sector's calendar – has been postponed until January but is still planned to take place as a full-scale live event at the Royal Lancaster Hotel.
The judging process is well underway, with a record number of entries this year, and the team expects to announce the shortlist by mid-August.
However, with the impact of the pandemic and social distancing restrictions, it has become clear that proceeding with the original date of 13 October would very likely mean restricting the number of people able to attend.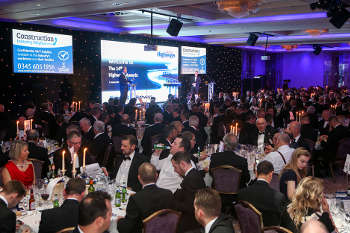 Working with all sponsors and judges, it has been decided that the best way to ensure the highways sector gets the celebration it deserves would be to delay the evening until Thursday 28 January 2021.
Transport director Craig Donovan said the number of entries was impressive, considering the challenges the sector and the country have faced in recent months.
'To my mind, restricting numbers to this much-anticipated sector event would be a huge shame. The team and I believe, if there is a chance the evening could run as previous years, without restrictions, we have a duty to try to ensure it does.
'If that means delaying slightly so be it. We are going to give you the evening of celebration and fun that you deserve.'
The Highways Awards team will continue to monitor the situation on social distancing, ensuring that the new date will be hosted safely and securely for all guests
Table bookings will open in late September.