Civils specialist builders' merchants Keyline has moved its Warrington branch to Widnes after outgrowing the old location.
The branch is now trading out of a brand new 3.5-acre site in Widnes, providing an additional 2.5 acres of space, which Keyline said will allow it to increase the stock depth available of its product range.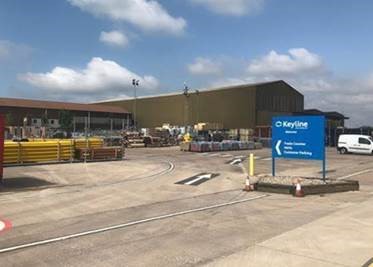 It added that sustained business growth meant that it had outgrown the Warrington location.
Keyline said the move comes as it implements plans to strengthen its network in North West of England to service its long standing, loyal customer base.
Staff will be relocating to Widnes, and Keyline said that as the business grows in the new location it will look to hire further staff members.
Branch manager Mark Stanton said: 'This is a great move for us as a business for both staff and customers. With no civils specialist in Liverpool until now, it's an area we've identified to put our flag in the ground, offering our expertise within the civils industry.
'All of my team members are happy with the move too, it gives them a sense of security by demonstrating the company's ambition to grow with them as brand representatives. This whole relocation ties in with everything Keyline as a company want to project externally, that we are smart thinkers with customer satisfaction at the heart of our business.'
Keyline was formed in 1988 when several regional builders' merchants merged into one and was acquired by the Travis Perkins Group in 1999.