A major utility firm has worked with a local authority and a technology firm to develop 'smart' traffic lights that aim to increase traffic flow by up to 24%.
The Auto-Green system uses radar technology, said to be 'inspired by smart motorway technology', to automatically adjust signals to suit the volume of traffic, reducing wait times for drivers.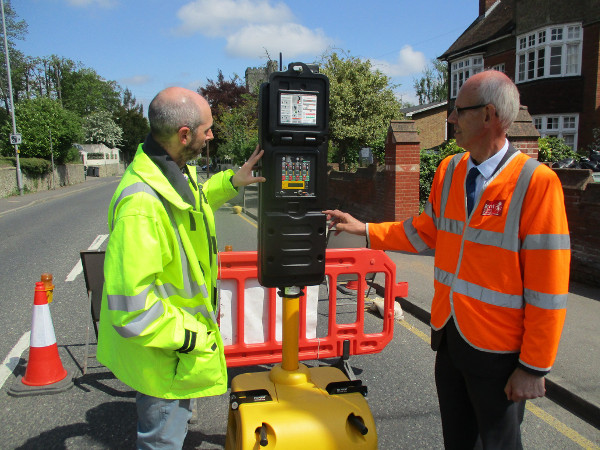 Paul Dooley and David Latham at the site of the Maidstone trial
UK Power Networks, which is the country's biggest electricity distributor, said the system accurately tracks vehicle movements and uses this information to optimise the operation of the lights, varying the decision-making algorithms and timings.
The system was trialled last week on roadworks in Maidstone, Kent, where UK Power Networks has carried out a £10,000 project to upgrade an electrical junction box.
UK Power Networks said the system can work better than manual traffic light control, often used on traffic sensitive roads at rush hour, because traffic conditions are difficult to evaluate and staff sometimes experience abuse.
Streetworks performance manager Paul Dooley said: 'This is the first trial in Kent using this technology, which we hope will improve journeys by optimising the length of time for traffic lights to be green.
'We are always looking for ways to improve services and by applying smart technology we may be able to reduce the impact of essential roadworks in our local communities while also cutting emissions from having fewer vehicle engines idling.'
Kent County Council is running a lane rental pilot and the project is being delivered through its proceeds via the Kent Lane Rental Innovation Fund.
Highway policy and inspections manager David Latham said: 'I am pleased to see the results of research, with funding contributions from the Kent Lane Rental Fund, coming to fruition.
'These lights never get tired or stop monitoring and optimising themselves to maximise traffic flow, ensuring that any disruption is always kept to a minimum. This technology is better for drivers and the site operatives.'
The developers of the technology, AGD Systems, say benefits include a 24% increase in cars per hour passing through roadworks compared to traditional traffic lights, improvements to air quality and lower costs.
Trials have already taken place in Essex, Hertfordshire and Northamptonshire.
UK Power Networks said the findings are currently being considered and if successful, smart lights could in future be deployed across the county and the other areas the firm serves.