London's new Direct Vision Standard (DVS) for HGVs has come into force, aimed at tackling the issue of drivers' blind spots by employing safety permits.
The scheme assigns vehicles a star rating based on how much the driver can see directly through their cab window. All lorries over 12 tonnes now need a permit to operate in London.
While more than 60,000 HGVs rated one to five stars received permits automatically, including more than 3,000 five-star vehicles, a third (30,000) of the 90,000 permits were issued to zero-rated HGVs after they had 'safe systems' fitted. These include:
cameras covering blind spots linked to a video display in the cab
an audible warning when turning left
motion sensors covering the sides of the lorry at low speeds
a prominent warning on the back of their vehicle
The scheme forms part of mayor Sadiq Khan's Vision Zero plan to eliminate deaths and serious injuries from London's streets by 2041.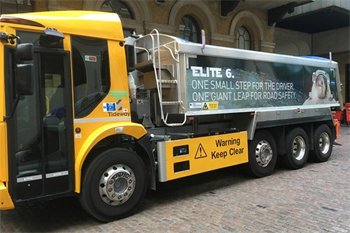 TfL data shows that people walking, cycling and motorcycling made up 81% of all people killed or seriously injured in 2019, while in 2018-20 large lorries were involved in nearly half (41%) of fatal collisions involving cyclists and 19% involving pedestrians.
Provisional data shows that in the first two months of 2021, three people walking or cycling in London have been killed by HGVs.
Christina Calderato, TfL's head of transport planning, told Highways: 'We know that more than 4,000 people are killed and seriously injured every year and cannot stand by and let that happen.
'We're taking a holistic approach to reducing road danger at source and there are a number of ways in which you do that. There's a safer streets bit, which is where we look at the street space and the junctions, how we can make that safer; safer speeds, which [TfL's Vision Zero Dashboard] recognises and for example we've made streets in Central London 20mph; safer vehicles, which is where DVS comes in – and that's a really key part of tackling what we know is a really serious issue on London's roads.'
Ms Calderato said TfL had developed the safe systems permit for zero rated vehicles by working with industry as it developed the DVS rules: 'It came out of consultation. They felt it was important that we had a safe system so we worked with the industry on that.'
TfL said several freight operators including FM Conway have led the way in introducing 5-star vehicles to London.
Peter Parle, senior transport manager at FM Conway, said: 'Safety is at the heart of our business and the DVS five-star rated Mercedes and Dennis tipper grabs that we use give us high performance at the same time as the safest cab view for our drivers and for the cyclists and pedestrians they share the streets with.'
The DVS and Safety Permit scheme is progressive and the standards will tighten in October 2024 when the minimum DVS star rating will be three stars and above. All HGVs below three stars will need to feature a progressive safe system which takes into account any additional technology or safety equipment not currently available.
A tighter Low Emission Zone (LEZ) standard also came into force on Monday. Heavy vehicles including lorries, buses, coaches and specialist vehicles now need to meet Euro VI (NOx and PM) emissions standards or pay a daily charge to drive within the Greater London area.
Ms Calderato told Transport Network that the decision to bring in the new LEZ rules to coincide with the DVS had also resulted from consultation with operators.