VolkerHighways has been awarded a street lighting contract with Medway Council, worth over £9m, that will see thousands of energy efficient lights installed.
The work began this week and will continue until July 2022.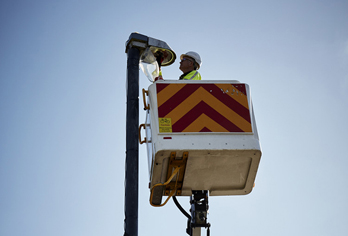 The works will comprise the replacement of around 24,000 street lighting lanterns with LEDs and the provision of a Central Management System (CMS).
An additional 2,000 existing lanterns will also be retrofitted with CMS. This will allow the LED lights be controlled remotely, saving more energy, minimising maintenance and reducing costs.
As part of this work, VolkerHighways will replace 3,500 concrete and 1,000 steel columns with aluminium units.
In heritage areas, a total of 1,350 lanterns will also be carefully refurbished or replaced with sympathetic designs.
Alistair Thompson, managing director for VolkerHighways, said: 'We have a long-standing relationship with Medway Council and so are delighted to be awarded this additional street lighting contract. It's great to be part of a project that will deliver real environmental change, with a highly efficient energy saving lighting solution, that incorporates smart, future- proofed systems.'
Phil Filmer, Medway Council's portfolio holder for frontline services, said: 'This project is just one of many ways that we are seeking to reduce our carbon footprint, improve the environment within Medway and start to lay the foundations for our Smart City ambitions. I look forward to seeing the replacement works progress.'
The contract is additional to VolkerHighways' five-year Highways Term Maintenance Contract .