The sub-national transport body (STB) for the Midlands has submitted 11 priority road improvement schemes for a share of £3.5bn government cash.
Midlands Connect has asked for a total of £596m for seven major road network (MRN) and four large local major (LLM) schemes which it said would cut congestion, help create jobs and homes and encourage more walking and cycling.
The Department for Transport (DfT) had asked STBs to identify priority schemes to improve local authority roads in the region under the National Roads Fund, which is worth £3.5bn from 2020-2025.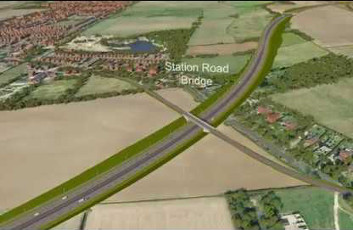 Funding bids for MRN schemes are worth £20m-50m each, while LLM schemes cost more than £50m, with an expected local contribution of at least 15% in each case.
Midlands Connect has asked the Government to provide £596m of the total £739m estimated cost of the 11 schemes, with the remaining £143m to be funded locally from a mixture of public and private sector sources. If successful, local authorities would deliver the physical infrastructure required.
Simon Statham, head of technical programmes at Midlands Connect, said: 'The Major Road Network targets funding specifically at schemes that help improve job opportunities, open up new housing developments, and importantly address our environmental obligations as well. Objectives for the funding include understanding how a scheme will create improvements for all road users, not just cars, and improve air quality by reducing congestion.
'By speaking with a collective voice on behalf of the Midlands, we believe each of the schemes submitted has provided all the evidence the government needs to fund them in full, and we expect to be celebrating a £600m investment in to the region to help our local authorities get on and deliver this transformational programme of upgrades.'
Midlands Connect said its priorities span the region and include upgrades in Worcestershire, Warwickshire, Leicestershire, Lincolnshire, Solihull, Sandwell, Wolverhampton, Telford & Wrekin, Derbyshire, Herefordshire and Stoke-on-Trent.
The schemes include new bypasses, widening roads at congestion hotspots, improving junctions and roundabouts, new links between existing stretches of road and better pedestrian and cycling facilities.
The 11 submitted priority schemes are: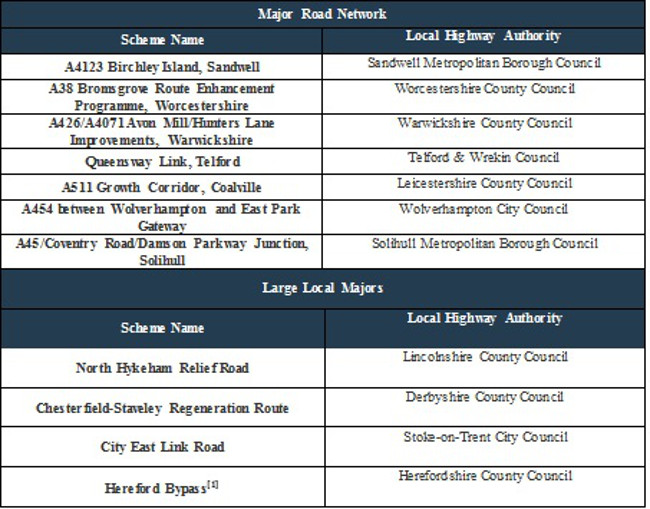 Midlands Connect said its submission to the government also contains recommendations to improve the funding process in the future. This includes 'the need to allocate development funding to councils whose squeezed budgets are hampering their ability to bring new schemes forward, and securing a specific regional funding allocation in line with the relative size and economic strength of each region, to help tailor a programme that gives schemes the best chance of success'.