A council leader has called on Scottish ministers to stop 'faffing about' after another landslide closed the A83 at Rest and be Thankful on Thursday morning.
Bear Scotland, which operates the trunk road in the region, said that more than 1,000 tonnes of material reached the carriageway on Thursday morning, adding that its staff were on-site assessing the situation and would commence clearance operations 'when safe to do so'.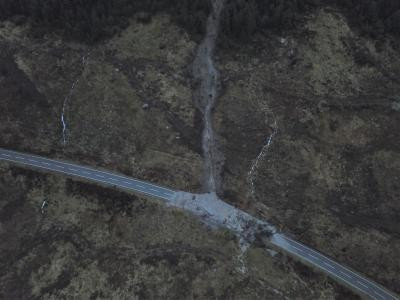 The Old Military Road was being assessed to consider if it was safe to be used as a diversion.
Although Transport Scotland has been installing measures, including catchpits to mitigate the effect of landslides on the key route, it has faced criticism that the current programme is inadequate, as landslides have continued, including in areas with mitigation measures.
Aileen Morton, leader of Argyll and Bute Council, said: 'The Scottish Government needs to make a commitment right now to finding a permanent solution for the A83 – no more prevaricating and faffing about, no more talking about processes and procedures, no more delays.
'The A83 is a crucial part of Argyll's transport network and therefore a crucial part of Scotland's transport network when you consider the scale of high-value products such as whisky, timber and seafood that are produced here.'
She added: 'The last landslip had a hugely negative impact on local businesses, and as well as day-to-day inconvenience for local residents it caused problems with essential services such as access to medical treatment.
'The Council and the people of Argyll and Bute have been asking for a permanent solution for a decade. Enough is enough – we need an announcement today that work is starting on finding a permanent solution.'
Eddie Ross, BEAR Scotland's north west manager, said: 'The landslide is east of the normal landslide susceptible area but is within the section of the A83 that we could use the Old Military Road.
'We remind road users that Argyll remains open for business, and rest assured we're doing everything possible to ensure the A83 opens as soon as it is safe to do so.'
Highways has approached Transport Scotland for comment.