The new chief executive of the Road Safety Markings Association (RSMA) has told Highways about his plans to change the organisation for the better while building on the strong foundations left by his predecessor.
Stu McInroy succeeded George Lee at the helm of the RSMA in March and has been visiting his members to find out what they want from the membership body.
He told Highways: 'It is essential that we, the RSMA, engage with members. We need to be aware of the challenges they face as individual firms – big or small, contractor or manufacturer – and I have set myself the target of visiting each member firm before Conference 2018.
'I'm about 25% of the way through that process and it has been both educational and enjoyable. What I learn from members during this process shall help to shape how the RSMA moves forward in the future.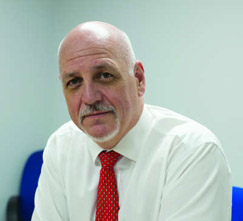 'Coming from "the outside" is, I believe, an opportunity for the RSMA to review where and what it is, and where and what it wants to be in the future, objectively critique how the RSMA does business and bring to the table my experience of other trade and membership bodies.'
He added: 'I don't believe in change for change's sake, but I do strongly believe in positive change, or change for the better. We have a good team of people at the RSMA doing good things on behalf of members and because of this strong foundation I imagine change will be evolutionary rather than revolutionary.'
You can find out more about Mr McInroy and his plans for the RSMA in an exclusive interview in the June issue of Highways magazine.
The RSMA Annual Conference returns as a one-day conference on 15 November 2018, at the Radisson Blu, East Midlands Airport.