The Institute of Highway Engineers (IHE) is set to launch a new training scheme to support 'right first time' utility reinstatements.
The qualification has been designed following consultation with the utilities sector in order to make sure both local highways authorities and utility companies avoid costly returns to site.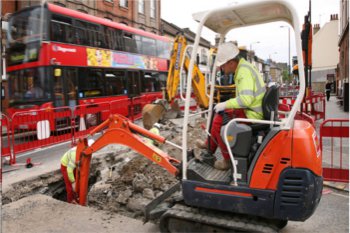 It is aimed at the client side to ensure local authorities have the training in-house to monitor reinstatements, which are a major source of road defects and deterioration.
The qualification has been approved by the UK Roads Board, and is due to be ratified by the UK Roads Liaison Group at a meeting on 10 July.
There is a growing sense of the need to address public and local government frustration over the issue of street works, amid accusations that utilities see road reinstatements as a low priority.
Some in the sector have argued that local authorities need to charge utilities more to ensure cash-strapped councils recoup costs on the damage caused by opening and reopening roads.
The Government has recently released guidance on how councils can secure approval to operate lane rental schemes, which allow English authorities to charge utility companies up to £2,500 a day for carrying out roadworks.
And the Department for Transport has also announced plans to update the key statutory code of practice for street works, increasing the guarantee on road openings from two to five years and introducing new asphalt standards.
The IHE is taking a more collaborative approach, advising against seeing utilities as a 'cash cow'
Richard Hayes, IHE president, said: 'We are bringing forward a street works qualification for people who inspect rather than carry out the works to ensure we get it right first time.
'I don't want the situation to be seen as a cash cow. To me that just recycles money and does not improve the asset. It is better to make sure councils and utilities that work with utilities together.
'I have spoken to utilities and we have worked with them on the qualification.'