The Northern Ireland Executive has said it will progress a raft of strategic infrastructure schemes and flagship projects, including the much-delayed £1bn-plus A5 Western Transport Corridor (WTC) scheme.
The announcement from infrastructure minister Nichola Mallon follows the restoration of the Executive in January under the New Decade, New Approach deal, which set out its priorities, as well as the impact of the COVID-19 pandemic.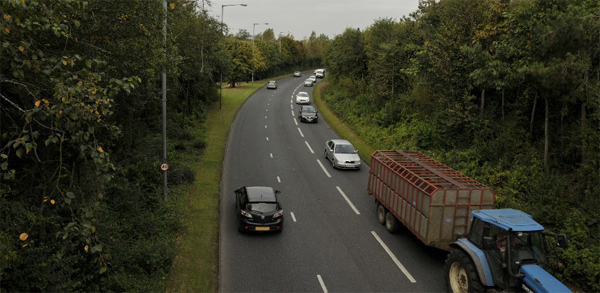 In a budget statement to the Northern Ireland Assembly, Ms Mallon detailed funding for the continued development of strategic roads schemes and other projects.
She told Assembly Members that she had 'approved budgets for the continuation of works on all the flagship projects, the A5 Western Transport Corridor where I am awaiting the Public Inquiry Inspector's Report and also the A6'.
According to Northern Ireland's Department for Infrastructure (DfI), Ms Mallon has asked officials to push forward on the development of schemes such as the A1 Junctions Phase 2; A24 Ballynahinch By Pass; A4 Enniskillen Southern Bypass; Newry Southern Relief Road; A29 Cookstown Bypass, A2 Buncrana Road and A32 (Omagh to Enniskillen) at Cornamuck.
She said: 'These strategic and flagship road improvement schemes span Northern Ireland and will deliver for many communities and help to address regional imbalance.
'Many communities across the North have waited a long time for progress to be made and while COVID-19 has left considerable challenges, I have been determined to get the wheels in motion and get these schemes back on track.
'Each scheme is at a different stage and I have asked my officials to bring forward plans to press ahead in the short and longer term.'
The minister has also asked officials to bring forward proposals to progress Narrow Water Bridge, a commitment in New Decade New Approach, 'which would fully explore the environmental and economic benefits this project would deliver for the people of South Down'.
Ms Mallon said: 'While these are uncertain and difficult times, with a focus on green recovery, I also recognise that our road infrastructure needs updated to relieve traffic in towns, explore options for active travel and reshape our places to deliver towns and cities that work for our communities and aid economic growth.'
The DfI said that following a public inquiry and the successful completion of the statutory processes, construction of the 53-mile A5 WTC project could commence in mid-2021.
The A5 WTC is one of five key transport corridors identified in the Regional Transportation Strategy for Northern Ireland. Split into two phases, it is estimated to cost more than £1bn in total.
According to the DfI, the scheme represents 'a significant link in plans to improve strategic links between the urban centres of Londonderry, Strabane, Omagh and Aughnacloy and improve connections to the North West'.
The project was first mooted in 2007 but has been mired in legal challenges and repeated public inquiries as the Executive carried out environmental assessments and published a series of amended orders to allow its construction.
A legal challenge launched in 2017 set the process back again and the Executive decided that it needed to hold a new public inquiry, which began in February this year.
A DfI spokesperson told Highways: 'Following last year's public consultation on an addendum to the Environmental Statement for the project, a further public inquiry was held in early 2020, concluding on 13 March 2020.
'It is anticipated that the inspector's report will be completed by the end of September 2020 and sent to the minister for her consideration.
'Subject to the successful completion of all statutory procedures and environmental assessments, it is hoped that the first phase of this scheme from New Buildings to north of Strabane could commence by mid-2021. The subsequent phases will be dependent on the completion of the statutory processes and availability of funding.'
Officials added that while COVID-19 has impacted construction work on the A6, this is continuing and it is hoped that the Toome to Castledawson section could be completed next spring.