Final figures for Scotland's road safety record in 2019 have confirmed that the number of people killed in crashes increased from 161 in 2018 to 165, while a further 2,016 people were seriously injured.
However, there was a significant drop in the overall number of casualties, which fell by 9% to 7,638, the lowest number since records began.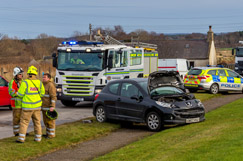 Michael Matheson, cabinet secretary for transport, infrastructure and connectivity, said: 'Yet again, overall road casualties on Scotland's roads remain at their lowest levels since records began. Sadly, it remains the case that from this lower total number of casualties, more people have died on Scotland's roads compared to last year.
'Whilst we are on track to exceed our reduction target for fatal collisions, this offers no comfort to the friends and family of those who have tragically lost their lives.'
In September, the Scottish Government began consulting on a Road Safety Framework with a long-term vision for zero fatalities and injuries on Scotland's roads by 2050.
Mr Matheson said: 'We have committed through the Programme for Government to spend over £500m over five years to help deliver accessible protected infrastructure for walking, wheeling and cycling across Scotland.
'In addition, this budget has and will continue to support innovative campaigns including Operation Close Pass, in addition to various Road Safety Scotland campaigns – to help change behaviours and better safeguard vulnerable road users in our communities.'
Scotland's overall road death rate of 30 per million population for 2019 was the eighth lowest of 41 countries surveyed in provisional international comparisons.
Compared with England and Wales, Scotland's 2019 casualty rates were 12% higher for those killed, 8% lower for serious injuries and 43% lower for all severities.
The Reported Road Casualties publication also recorded marked variation by age and sex.
In 2019, the overall rate was 1.6 accidents per thousand population aged 17+.
The highest rate was for males in the 17-25 age group, with a rate of 2.5 per thousand people in 2019. This rate is nearly one and a half times those of females of the same age (1.9 per thousand in 2019).
In 2019, there were 763 child casualties in reported road accidents, an increase of 1 per cent since 2018. This included two fatalities, one fewer than in 2018, and 198 children who were seriously injured.