The Scottish Government aims to halve the number of people killed or seriously injured on the road network by 2030 and achieve zero fatalities by 2050.
The plans, which have been released to consultation, aim to give Scotland no less than the best road safety performance in the world.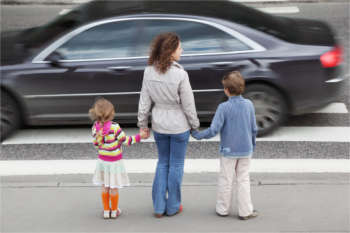 Interim targets to 2030 have been proposed, based on a 2014-18 baseline. 50% reduction in people killed 50% reduction in people seriously injured 60% reduction in children (aged <16) killed 60% reduction in children (aged <16) seriously injured
The current road safety strategy ends this year after achieving significant success - 168 people were killed in 2019, a reduction of 42% since the baseline, meaning Scotland is currently exceeding its 2020 target of a 40% reduction.
Also, 2,001 people were seriously injured in 2019 - when adjusted to account for changes to reporting this represents a 33% adjustment from the baseline, although the 2020 target is a 55% reduction.
Despite a 27% rise in traffic since 1995, Scotland had seen a 61% decrease in road collisions across the same period.
The Scottish government now aims to go further by employing a safe systems approach to create a more 'forgiving' road environment that allows for human error without resulting in death or serious injury.
The document states: 'A Safe (road) System mitigates [human error] with its five pillars - effectively layers of protection - in the form of safe road use; safe roads and roadsides; safe vehicles; safe speeds; and better post-crash response; all working in harmony to prevent deaths and serious injuries.'
It adds that this will require a culture shift as 'many professionals continue to use traditional delivery methods which seek to correct human behaviour, rather than acknowledge that collisions are also related to the inherent risks of the existing infrastructure'.
Under the safe systems, approach other indicators have been developed and categorised as either intermediate measures - tracking performance of casualty figures for specific user groups - or key performance indicators - measuring observed road safety behaviours, vehicle safety and road infrastructure.
Under the plans key performance indicators will include: Percentage of motorists driving within the speed limit Percentage of drivers not distracted by a handheld mobile phone/Sat Nav or in-car entertainment system
Percentage of vehicle occupants wearing a seatbelt or child restraint system correctly
Percentage of distance driven over roads with a casualty rate below an appropriate threshold
Percentage of new passenger cars with a EuroNCAP97 safety rating equal or above a predefined threshold
Time elapsed in minutes and seconds between the emergency call following a collision resulting in personal injury and the arrival at the of the emergency services
As part of the programme, ministers said a national Road Safety Improvement Fund could be established to help road authorities meet the challenging 2030 road casualty reduction targets.
Route risk mapping with proactive road assessments will also be used in addition to the more traditional reactive analysis of incident cluster sites to help target investment.
'All road safety partners must become smarter at pooling resources from different budget holders to align outcomes and help achieve better road safety performance at all levels,' the document states. Alongside the new strategy, cabinet secretary for transport Michael Matheson announced a £675,000 fund to support 24 newly identified safety camera sites.
Mr Matheson said: 'The positive improvements we've made stem from a collective belief by all road safety partners in Scotland, that road deaths are not an inevitability. We believe that they are preventable. Our ambition for Vision Zero by 2050, is achievable, and I believe can be made a reality, by fully embedding the Safe System approach to road safety.
'Our framework will put people at its centre. It intends to recognise that people are fragile and make mistakes that can lead to collisions but it should result in no death or serious injury. It also focuses on supporting our National Transport Strategy and net-zero aspirations in allowing people to make informed choices to travelling in a safe, active and sustainable way.'
The consultation closes on 1 December 2020.