The final phase of work on the Regent Street Flyover project in Leeds city centre will start the weekend 20-21 November with the installation of the northern bridge beams.
Leeds City Council said construction of a new flyover began in May last year after the old structure reached the end of its usable life.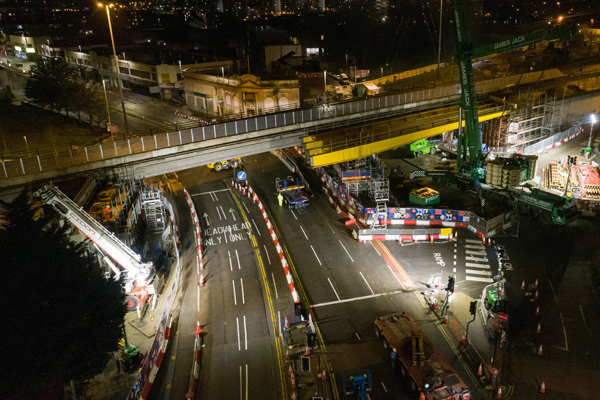 The southern section of the bridge has now been demolished and rebuilt and the northern section was demolished earlier this year. The northern bridge will be rebuilt ahead of the scheme completing in spring 2022.
Helen Hayden, executive member for infrastructure and climate, said: 'We continue to make good progress with this important scheme to replace a key piece of the City's infrastructure.
'I am pleased that this scheme is on schedule to be complete by spring 2022 – the maintenance of this essential route is absolutely key to keeping traffic flowing around the city.'
A specialist mobile crane weighing 220 tonnes will be used to install the bridge beams. The bridge will have an overall total span of approximately 66m, with the largest steel beam measuring 44 metres in length and weighing 69 tonnes.
The council said the team working on the project have now surpassed 150,000 hours of work on the project – half of which was through the lockdowns.
The works will require a series of consecutive night closures of the A64(M)/A64 and the A61 from Sunday 21 November for seven nights, with a further two weeks of night-time closures of the A61, which passes under the flyover, to install support systems and formwork.
Closure dates:
21 November – 28 November; 8pm (A61) and 10pm (A64(M)) to 5:30am
29 November - 2 December; A61; 8pm to 5:30am
3 December – 12 December, A61: 9pm to 5.30am