Responsibility for managing and maintaining the trunk road network in the South of Scotland is in (nearly) new hands.
On Sunday, BEAR Scotland took over the maintenance of 314 miles of trunk roads in the South East, while Amey, which had been in charge in that region, took over in the South West.
Both contracts will run until at least 2028.
BEAR Scotland's new responsibilities extend its coverage to three of the country's four regions as it currently has responsibility for trunk roads in the North East and North West of Scotland.
However, it will have to give up at least one of these contracts under the rules for this round of procurement, which stipulate that a contractor can only operate one contract in the North and one contract in the South.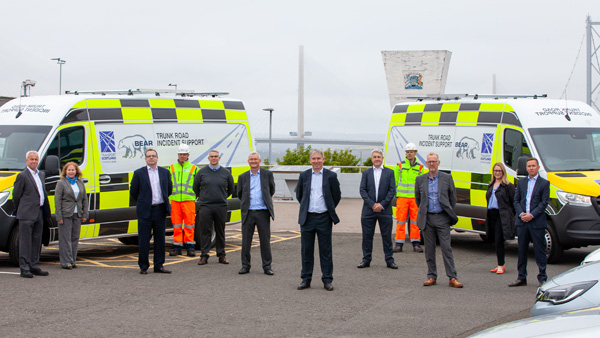 The South East Unit now includes the Forth Road Bridge and Queensferry Crossing
Managing director Iain Murray said: 'Our long-standing experience in trunk road maintenance across Scotland and the expertise of our dedicated South East team will ensure we deliver and develop a high-level service which focuses on customer care for the people and organisations that rely on trunk roads in South East Scotland for years to come.'
The South East Unit now includes the Forth Road Bridge and the Queensferry Crossing for the first time. The bridges were previously part of a separate maintenance contract – managed by Amey.
BEAR Scotland said an enhanced Trunk Road Incident Support Service (TRISS) is being deployed across the network to provide increased assistance during incidents. It has introduced seven brand new TRISS vehicles with digital display signs.
The firm said it has redeployed a number of its most experienced road managers and team leads to oversee the management of the new contract.
It is introducing a new fleet of winter spreaders and road maintenance vehicles and said it plans to include a number of fully electric vehicles to assist with road maintenance operations.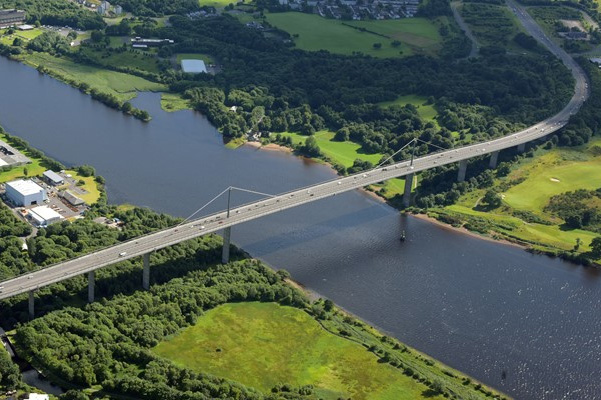 The South East contract includes major infrastructure assets such as the Erskine Bridge
Amey said data will be key to providing cyclical, reactive and winter maintenance across the South West network, and a new asset management approach will be used to make informed decisions.
Its specialist bridge engineers will be monitoring and maintaining major infrastructure assets on the 375 miles of road network, such as the Erskine and Kingston bridges.
Peter Anderson, managing director for transport infrastructure, said: 'I'm delighted today to welcome over 250 employees to Amey.
'Following a unique five-month mobilisation through Covid-19, today marks day one for the contract, which will see our dedicated team of engineers spend the next eight years developing the service through the introduction of new technology, developing our people and looking at ways to work more efficiently and safely.
'We'll also be doing more to listen to the needs of the road users to work with Transport Scotland to make decisions based on data and customer insight.'
The South East contract was operated by Amey since August 2014 while the South West contract was operated by Scotland TranServ since April 2013.