Road marking specialist WJ Group has highlighted the potential for new types of profiled marking products to improve the safety of single carriageway roads by providing an audible and sensory warning on centre lines.
It follows a call from transport research experts TRL for the use of 'rumble strips' on more single carriageway roads on the strategic network. These markings produce a vibration and noise warning that a vehicle is in danger of leaving the road,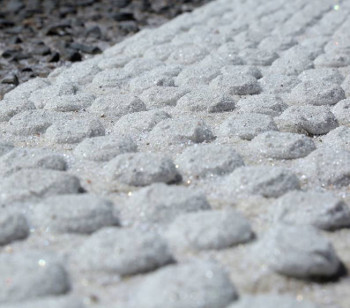 WJ said new types of profiled markings like its Weatherline Plus (pictured) are suited for single carriageway centre lines.
It distinguished between raised profile edge markings, which can only be used at the side of roads, and Weatherline Plus, which it said is acceptable as a centre line under Chapter 5 of the Traffic Signs Regulations and General Directions (TSRGD) because of the height of the base line and configuration of the profiled elements.
WJ Group sustainability director Paul Aldridge told Highways that while there is no doubt that raised profile edge markings have saved countless lives, 'these marking are legally restricted to edge lines and mostly employed on motorways and dual carriageways'.
'But, by using other profiled markings systems, the audible and sensory benefits of these edge markings can be further employed on the wider network, without any vulnerable road user concerns,' he added.
'These new safety markings can be especially beneficial on the high speed single carriageways which are consistently proven to be the most hazardous. WJ's Weatherline Plus Dot 'n' Line system, is a profiled marking with a similar but less intrusive warning that can be employed on the carriageway centre lines with huge potential to avoid head on crashes as well as improving visibility in poor weather conditions.
'Weatherline Plus is certificated to BSEN1436 and fully complies with Chapter 5 so does not require any change in legislation.'
WJ said the product would provide enhanced safety through high retroreflectivity, wet night visibility, constant rain visibility, skid resistance and audible and sensory warning to drivers.
The firm added that markings of this type are more likely to work with new technology such as Lane Keep Assist forward facing cameras.
It launched its durable Weatherline Plus product at Traffex in April this year.