Highways England has enough safety funding in its budget for the second Road Investment Strategy (RIS 2), its outgoing chief executive has said.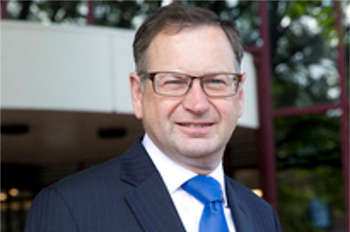 The government-owned company has a Safety and Congestion designated fund of just £140m for 2020-25, half of one per cent of the total RIS 2 budget of £27bn. A recent report published by its monitor, the Office of Rail and Road called for 'urgent work [to] begin now generating a RIS3 portfolio with high return safety investment'.
However, speaking to Highways after announcing that he will step down next year, Jim O'Sullivan said: 'It is sufficient because it's largely spent on safety innovation and development of new safety practices. In truth, everything we build has safety in it and the UK's roads are among the safest in the world and our motorways and strategic road network is the safest of the safe.
'So sight lines, lane widths, concrete central barrier makes a huge difference, gradients, all of the stuff that goes into the basic engineering of our roads is in effect safety investment. They're not the safest roads by coincidence.'
Mr O'Sullivan also said he disagreed with a recent statement from the ORR that a RIS 1 pledge to bring the majority of roads rated as one and two stars under the iRAP assessment model up to three stars as 'undeliverable' because Highways England's safety budget was 'insufficient'.
He told Highways: 'I think there are many different perspectives; I think that the ORR one is probably fair enough but I would balk at the bit where they talk about it being a funding issue.
'I think it was the complex nature of the challenge that would cause people to be able to say we didn't achieve it.'
Asked whether he felt that Highways England had enough resources to install concrete central barriers, Mr O'Sullivan replied that he was 'content with where we are' because of the disruption that additional works would cause on the network.
He said: 'I think you get back to the point where the road is reaching its capacity. I don't think anybody would thank us for doing lane closures to replace perfectly serviceable steel. The steel barrier fits the requirement.
'I'm reasonably content that we have a good package of schemes and maintenance programmes in RIS 2 that will continue to improve the safety of the roads.'
Last year Mr O'Sullivan described concrete central reservation as 'one of the biggest single innovations in recent years that has made a huge difference to the safety of any road'.
He told a conference: 'It costs about a million pounds a mile, more than steel barrier. And given the choice of where to spend safety money, every time I would spend it on concrete central reservation, rather than emergency refuge areas [ERAs].'
These comments were made before the Department for Transport's evidence stocktake and action plan on smart motorways, which confirmed a maximum spacing between ERAs one mile for new schemes and three quarters of a mile 'where feasible', but did not pledge to retrofit ERAs, other than confirming an existing pledge to add 10 to the M25.
Mr O'Sullivan told Highways that all 18 commitments in the action plan came from Highways England.